Pakket: puredata (0.52.2+ds0-2)
Verwijzigingen voor puredata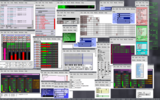 Debian bronnen:
Het bronpakket puredata downloaden:
Beheerders:
Externe bronnen:
Vergelijkbare pakketten:
realtime computer music and graphics system
Pure Data (also known as Pd) is a real-time graphical programming environment for audio and graphics processing. Pd's audio functions are built-in; graphical computations require separate packages such as gem (Graphics Environment for Multimedia) or pd-pdp (Pd Packet).
This is a metapackage that depends on all components of the core of Pd.
Andere aan puredata gerelateerde pakketten
sug:

gem

Graphics Environment for Multimedia - Pure Data library

sug:

multimedia-puredata

Packages for working with Pure Data

sug:

pd-aubio

Pakket niet beschikbaar

sug:

pd-csound

Csound external for Pure Data

sug:

pd-pdp

Graphics system for Pd

sug:

pd-zexy

General Purpose addon library for Pd