Pakket: wireshark-gtk (2.6.8-1 en anderen)
Verwijzigingen voor wireshark-gtk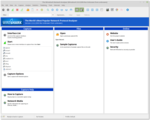 Debian bronnen:
Het bronpakket wireshark downloaden:
Beheerder:
Externe bronnen:
Vergelijkbare pakketten:
network traffic analyzer - GTK+ version
Wireshark is a network "sniffer" - a tool that captures and analyzes packets off the wire. Wireshark can decode too many protocols to list here.
This package provides the GTK+ version of Wireshark.
Andere aan wireshark-gtk gerelateerde pakketten
rec:

xdg-utils

desktop integration utilities from freedesktop.org
wireshark-gtk downloaden
Pakket downloaden voor alle beschikbare platforms

| Platform | Versie | Pakketgrootte | Geïnstalleerde grootte | Bestanden |
| --- | --- | --- | --- | --- |
| alpha (unofficial port) | 2.6.8-1 | 719,7 kB | 2.591,0 kB | [overzicht] |
| amd64 | 2.6.8-1 | 716,7 kB | 2.061,0 kB | [overzicht] |
| arm64 | 2.6.8-1 | 659,0 kB | 2.040,0 kB | [overzicht] |
| armel | 2.6.8-1 | 617,2 kB | 1.714,0 kB | [overzicht] |
| armhf | 2.6.8-1 | 628,5 kB | 1.366,0 kB | [overzicht] |
| hppa (unofficial port) | 2.6.8-1 | 721,7 kB | 2.440,0 kB | [overzicht] |
| hurd-i386 | 2.6.8-1 | 766,4 kB | 2.278,0 kB | [overzicht] |
| i386 | 2.6.8-1 | 769,3 kB | 2.295,0 kB | [overzicht] |
| kfreebsd-amd64 | 2.4.3-1 | 721,3 kB | 2.087,0 kB | [overzicht] |
| kfreebsd-i386 | 2.4.3-1 | 778,8 kB | 2.328,0 kB | [overzicht] |
| m68k (unofficial port) | 2.6.8-1 | 673,7 kB | 1.942,0 kB | [overzicht] |
| mips | 2.6.8-1 | 601,3 kB | 2.227,0 kB | [overzicht] |
| mips64el | 2.6.8-1 | 595,4 kB | 2.280,0 kB | [overzicht] |
| mipsel | 2.6.8-1 | 607,3 kB | 2.227,0 kB | [overzicht] |
| powerpcspe (unofficial port) | 2.4.6-1 | 662,5 kB | 2.210,0 kB | [overzicht] |
| ppc64 (unofficial port) | 2.6.8-1 | 723,7 kB | 2.737,0 kB | [overzicht] |
| ppc64el | 2.6.8-1 | 740,2 kB | 2.608,0 kB | [overzicht] |
| riscv64 (unofficial port) | 2.6.8-1 | 635,3 kB | 1.631,0 kB | [overzicht] |
| s390x | 2.6.8-1 | 648,7 kB | 2.128,0 kB | [overzicht] |
| sh4 (unofficial port) | 2.4.6-1 | 802,2 kB | 1.830,0 kB | [overzicht] |
| sparc64 (unofficial port) | 2.6.8-1 | 598,7 kB | 2.006,0 kB | [overzicht] |
| x32 (unofficial port) | 2.4.6-1 | 717,6 kB | 1.922,0 kB | [overzicht] |