Pakket: pvpgn (1.8.5-2.1 en anderen) [contrib]
Verwijzigingen voor pvpgn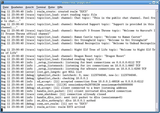 Debian bronnen:
Het bronpakket pvpgn downloaden:
Beheerders:
Externe bronnen:
Vergelijkbare pakketten:
gaming server that emulates Battle.net(R)
The server currently implements most of the same functionality as the real Battle.net(R) servers from Blizzard Entertainment. You can chat, play games, use / commands, and things like account passwords, user icons, ad banners, and channel operators work too. It is by no means complete, though.
Andere aan pvpgn gerelateerde pakketten
rec:

tinycdb

an utility to manipulate constant databases (cdb)
pvpgn downloaden
Pakket downloaden voor alle beschikbare platforms

| Platform | Versie | Pakketgrootte | Geïnstalleerde grootte | Bestanden |
| --- | --- | --- | --- | --- |
| amd64 | 1.8.5-2.1+b1 | 639,8 kB | 2.179,0 kB | [overzicht] |
| arm64 | 1.8.5-2.1+b1 | 612,6 kB | 2.191,0 kB | [overzicht] |
| armel | 1.8.5-2.1+b1 | 561,7 kB | 1.969,0 kB | [overzicht] |
| armhf | 1.8.5-2.1+b1 | 570,6 kB | 1.601,0 kB | [overzicht] |
| hurd-i386 | 1.8.5-2.1+b1 | 668,6 kB | 2.361,0 kB | [overzicht] |
| i386 | 1.8.5-2.1+b1 | 670,8 kB | 2.433,0 kB | [overzicht] |
| kfreebsd-amd64 | 1.8.5-2.1 | 635,3 kB | 2.139,0 kB | [overzicht] |
| kfreebsd-i386 | 1.8.5-2.1+b1 | 671,6 kB | 2.361,0 kB | [overzicht] |
| mips | 1.8.5-2.1+b1 | 591,5 kB | 2.376,0 kB | [overzicht] |
| mips64el | 1.8.5-2.1+b1 | 599,6 kB | 2.540,0 kB | [overzicht] |
| mipsel | 1.8.5-2.1+b1 | 600,2 kB | 2.376,0 kB | [overzicht] |
| ppc64el | 1.8.5-2.1+b1 | 672,4 kB | 3.155,0 kB | [overzicht] |
| s390x | 1.8.5-2.1+b1 | 587,7 kB | 2.187,0 kB | [overzicht] |