Pakket: nm-tray (0.4.2-1)
Verwijzigingen voor nm-tray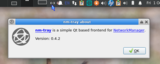 Debian bronnen:
Het bronpakket nm-tray downloaden:
Beheerders:
Externe bronnen:
Vergelijkbare pakketten:
Simple Network Manager frontend written in Qt
nm-tray is a simple NetworkManager front end with information icon residing in system tray (like e.g. nm-applet). It's a pure Qt application. For interaction with NetworkManager it uses API provided by KF5::NetworkManagerQt -> plain DBus communication.
This package contain the application files.
Andere aan nm-tray gerelateerde pakketten
nm-tray downloaden
Pakket downloaden voor alle beschikbare platforms

| Platform | Pakketgrootte | Geïnstalleerde grootte | Bestanden |
| --- | --- | --- | --- |
| alpha (unofficial port) | 93,0 kB | 454,0 kB | [overzicht] |
| amd64 | 94,7 kB | 389,0 kB | [overzicht] |
| arm64 | 87,5 kB | 385,0 kB | [overzicht] |
| armel | 80,8 kB | 320,0 kB | [overzicht] |
| armhf | 82,7 kB | 268,0 kB | [overzicht] |
| hppa (unofficial port) | 97,7 kB | 419,0 kB | [overzicht] |
| i386 | 102,7 kB | 388,0 kB | [overzicht] |
| m68k (unofficial port) | 97,0 kB | 392,0 kB | [overzicht] |
| mips | 84,3 kB | 414,0 kB | [overzicht] |
| mips64el | 86,4 kB | 450,0 kB | [overzicht] |
| mipsel | 86,4 kB | 414,0 kB | [overzicht] |
| ppc64 (unofficial port) | 96,1 kB | 537,0 kB | [overzicht] |
| ppc64el | 96,1 kB | 473,0 kB | [overzicht] |
| riscv64 (unofficial port) | 90,2 kB | 347,0 kB | [overzicht] |
| s390x | 85,5 kB | 401,0 kB | [overzicht] |
| sh4 (unofficial port) | 106,0 kB | 367,0 kB | [overzicht] |
| sparc64 (unofficial port) | 81,8 kB | 398,0 kB | [overzicht] |
| x32 (unofficial port) | 94,2 kB | 352,0 kB | [overzicht] |