Pakket: kget (4:18.12.0-1 en anderen)
Verwijzigingen voor kget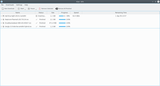 Debian bronnen:
Het bronpakket kget downloaden:
Beheerders:
Externe bronnen:
Vergelijkbare pakketten:
download manager
KGet is an advanced download manager with support for Metalink and Bittorrent. Downloads are added to the list, where they can be paused, queued, or scheduled for later.
This package is part of the KDE networking module.
Andere aan kget gerelateerde pakketten
kget downloaden
Pakket downloaden voor alle beschikbare platforms

| Platform | Versie | Pakketgrootte | Geïnstalleerde grootte | Bestanden |
| --- | --- | --- | --- | --- |
| alpha (unofficial port) | 4:18.04.0-1 | 5.259,4 kB | 11.732,0 kB | [overzicht] |
| amd64 | 4:18.12.0-1 | 5.286,3 kB | 11.049,0 kB | [overzicht] |
| arm64 | 4:18.12.0-1 | 5.218,8 kB | 11.056,0 kB | [overzicht] |
| armel | 4:18.12.0-1 | 5.148,9 kB | 10.418,0 kB | [overzicht] |
| armhf | 4:18.12.0-1 | 5.174,6 kB | 9.925,0 kB | [overzicht] |
| hppa (unofficial port) | 4:18.12.0-1 | 5.317,8 kB | 11.513,0 kB | [overzicht] |
| hurd-i386 | 4:18.12.0-1 | 5.365,2 kB | 10.953,0 kB | [overzicht] |
| i386 | 4:18.12.0-1 | 5.368,5 kB | 11.017,0 kB | [overzicht] |
| m68k (unofficial port) | 4:18.04.0-1 | 5.221,7 kB | 10.656,0 kB | [overzicht] |
| mips | 4:18.12.0-1 | 5.192,7 kB | 11.397,0 kB | [overzicht] |
| mips64el | 4:18.12.0-1 | 5.207,5 kB | 11.699,0 kB | [overzicht] |
| mipsel | 4:18.12.0-1 | 5.209,7 kB | 11.397,0 kB | [overzicht] |
| powerpcspe (unofficial port) | 4:18.04.0-1 | 5.196,2 kB | 11.383,0 kB | [overzicht] |
| ppc64 (unofficial port) | 4:18.12.0-1 | 5.306,9 kB | 12.573,0 kB | [overzicht] |
| ppc64el | 4:18.12.0-1 | 5.300,5 kB | 12.251,0 kB | [overzicht] |
| riscv64 (unofficial port) | 4:17.12.2-1 | 5.372,0 kB | 10.563,0 kB | [overzicht] |
| s390x | 4:18.12.0-1 | 5.193,7 kB | 11.158,0 kB | [overzicht] |
| sh4 (unofficial port) | 4:17.08.3-1 | 1.320,8 kB | 3.018,0 kB | [overzicht] |
| sparc64 (unofficial port) | 4:17.08.3-1 | 1.133,9 kB | 3.205,0 kB | [overzicht] |
| x32 (unofficial port) | 4:18.12.0-1 | 5.293,6 kB | 10.717,0 kB | [overzicht] |