Pakket: gtypist (2.9.5-3 en anderen)
Verwijzigingen voor gtypist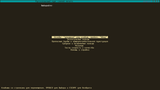 Debian bronnen:
Het bronpakket gtypist downloaden:
Beheerders:
Externe bronnen:
Vergelijkbare pakketten:
simple ncurses touch typing tutor
Displays exercise lines, measures your typing speed and accuracy, and displays the results. Two exercise types are possible: drills and speed tests.
You need fortune cookies (fortune-cookie-db) to use typefortune. There are several languages specific cookie packages (fortunes-*).
Andere aan gtypist gerelateerde pakketten
gtypist downloaden
Pakket downloaden voor alle beschikbare platforms

| Platform | Versie | Pakketgrootte | Geïnstalleerde grootte | Bestanden |
| --- | --- | --- | --- | --- |
| alpha (unofficial port) | 2.9.5-3+b1 | 735,6 kB | 3.210,0 kB | [overzicht] |
| amd64 | 2.9.5-3+b1 | 734,3 kB | 3.198,0 kB | [overzicht] |
| arm64 | 2.9.5-3+b1 | 732,2 kB | 3.198,0 kB | [overzicht] |
| armel | 2.9.5-3+b1 | 734,2 kB | 3.197,0 kB | [overzicht] |
| armhf | 2.9.5-3+b1 | 732,8 kB | 3.185,0 kB | [overzicht] |
| hppa (unofficial port) | 2.9.5-3+b1 | 734,3 kB | 3.197,0 kB | [overzicht] |
| hurd-i386 | 2.9.5-3+b1 | 735,3 kB | 3.197,0 kB | [overzicht] |
| i386 | 2.9.5-3+b1 | 735,8 kB | 3.197,0 kB | [overzicht] |
| kfreebsd-amd64 | 2.9.5-3+b1 | 734,3 kB | 3.198,0 kB | [overzicht] |
| kfreebsd-i386 | 2.9.5-3+b1 | 735,4 kB | 3.197,0 kB | [overzicht] |
| m68k (unofficial port) | 2.9.5-3+b1 | 731,1 kB | 3.193,0 kB | [overzicht] |
| mips | 2.9.5-3+b1 | 734,1 kB | 3.203,0 kB | [overzicht] |
| mips64el | 2.9.5-3+b1 | 734,4 kB | 3.208,0 kB | [overzicht] |
| mipsel | 2.9.5-3+b1 | 734,3 kB | 3.203,0 kB | [overzicht] |
| powerpcspe (unofficial port) | 2.9.5-3+b1 | 732,4 kB | 3.217,0 kB | [overzicht] |
| ppc64 (unofficial port) | 2.9.5-3+b1 | 733,9 kB | 3.220,0 kB | [overzicht] |
| ppc64el | 2.9.5-3+b1 | 734,0 kB | 3.218,0 kB | [overzicht] |
| riscv64 (unofficial port) | 2.9.5-3+b1 | 733,5 kB | 3.194,0 kB | [overzicht] |
| s390x | 2.9.5-3+b1 | 734,0 kB | 3.206,0 kB | [overzicht] |
| sh4 (unofficial port) | 2.9.5-3+b1 | 736,0 kB | 3.193,0 kB | [overzicht] |
| sparc64 (unofficial port) | 2.9.5-3+b1 | 733,3 kB | 3.205,0 kB | [overzicht] |
| x32 (unofficial port) | 2.9.5-3+b1 | 733,8 kB | 3.193,0 kB | [overzicht] |