Pakket: desktopnova-module-xfce (0.8.1-1.1)
Verwijzigingen voor desktopnova-module-xfce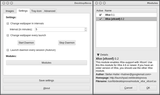 Debian bronnen:
Het bronpakket desktopnova downloaden:
Beheerder:
Externe bronnen:
Vergelijkbare pakketten:
Xfce module for DesktopNova
DesktopNova changes the desktop background image after an adjustable time. It can choose the images from single files and folders (with or without subfolders). An autostart feature is also implemented.
This package enables Xfce support for DesktopNova.
Andere aan desktopnova-module-xfce gerelateerde pakketten
desktopnova-module-xfce downloaden
Pakket downloaden voor alle beschikbare platforms

| Platform | Pakketgrootte | Geïnstalleerde grootte | Bestanden |
| --- | --- | --- | --- |
| alpha (unofficial port) | 13,6 kB | 88,0 kB | [overzicht] |
| amd64 | 13,4 kB | 90,0 kB | [overzicht] |
| arm64 | 13,2 kB | 88,0 kB | [overzicht] |
| armel | 13,0 kB | 80,0 kB | [overzicht] |
| armhf | 13,0 kB | 80,0 kB | [overzicht] |
| hppa (unofficial port) | 14,0 kB | 88,0 kB | [overzicht] |
| hurd-i386 | 13,7 kB | 84,0 kB | [overzicht] |
| i386 | 13,7 kB | 84,0 kB | [overzicht] |
| kfreebsd-amd64 | 13,4 kB | 90,0 kB | [overzicht] |
| kfreebsd-i386 | 13,7 kB | 84,0 kB | [overzicht] |
| m68k (unofficial port) | 13,2 kB | 88,0 kB | [overzicht] |
| mips | 13,3 kB | 84,0 kB | [overzicht] |
| mips64el | 13,4 kB | 90,0 kB | [overzicht] |
| mipsel | 13,3 kB | 84,0 kB | [overzicht] |
| powerpcspe (unofficial port) | 13,5 kB | 200,0 kB | [overzicht] |
| ppc64 (unofficial port) | 13,7 kB | 202,0 kB | [overzicht] |
| ppc64el | 13,5 kB | 200,0 kB | [overzicht] |
| riscv64 (unofficial port) | 12,9 kB | 84,0 kB | [overzicht] |
| s390x | 13,3 kB | 88,0 kB | [overzicht] |
| sh4 (unofficial port) | 13,4 kB | 84,0 kB | [overzicht] |
| sparc64 (unofficial port) | 13,2 kB | 90,0 kB | [overzicht] |
| x32 (unofficial port) | 13,4 kB | 84,0 kB | [overzicht] |