Pakket: khelpcenter (4:18.04.0-1)
Verwijzigingen voor khelpcenter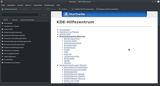 Debian bronnen:
Het bronpakket khelpcenter downloaden:
Beheerders:
Externe bronnen:
Vergelijkbare pakketten:
KDE documentation viewer
KHelpCenter uses meta data files which describe the documentation available in the system. Each document is represented by a meta data file and shown as an entry in the KHelpCenter navigation tree view. The meta data contains information about title and short description of the document, the location of the document and some more information like how to search the document and translations of title and description. Document hierarchy is represented as hierarchy of the meta data files. Directories are also described by a meta data file which contains the same information as a document meta data file.
Andere aan khelpcenter gerelateerde pakketten
rec:

man-db

on-line manual pager
khelpcenter downloaden
Pakket downloaden voor alle beschikbare platforms

| Platform | Pakketgrootte | Geïnstalleerde grootte | Bestanden |
| --- | --- | --- | --- |
| alpha (unofficial port) | 3.509,4 kB | 7.308,0 kB | [overzicht] |
| amd64 | 3.508,6 kB | 7.152,0 kB | [overzicht] |
| arm64 | 3.492,0 kB | 7.148,0 kB | [overzicht] |
| armel | 3.488,0 kB | 7.074,0 kB | [overzicht] |
| armhf | 3.491,6 kB | 6.986,0 kB | [overzicht] |
| hppa (unofficial port) | 3.516,0 kB | 7.237,0 kB | [overzicht] |
| i386 | 3.528,0 kB | 7.185,0 kB | [overzicht] |
| m68k (unofficial port) | 3.503,9 kB | 7.130,0 kB | [overzicht] |
| mips64el | 3.495,7 kB | 7.245,0 kB | [overzicht] |
| mipsel | 3.494,7 kB | 7.210,0 kB | [overzicht] |
| powerpcspe (unofficial port) | 3.498,6 kB | 7.342,0 kB | [overzicht] |
| ppc64 (unofficial port) | 3.505,8 kB | 7.489,0 kB | [overzicht] |
| ppc64el | 3.503,7 kB | 7.410,0 kB | [overzicht] |
| riscv64 (unofficial port) | 3.494,1 kB | 7.052,0 kB | [overzicht] |
| s390x | 3.496,3 kB | 7.208,0 kB | [overzicht] |
| sh4 (unofficial port) | 3.533,2 kB | 7.114,0 kB | [overzicht] |
| sparc64 (unofficial port) | 3.487,6 kB | 7.218,0 kB | [overzicht] |
| x32 (unofficial port) | 3.512,4 kB | 7.109,0 kB | [overzicht] |