Pakket: kgeography (4:17.08.3-1)
Verwijzigingen voor kgeography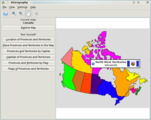 Debian bronnen:
Het bronpakket kgeography downloaden:
Beheerders:
Externe bronnen:
Vergelijkbare pakketten:
geography learning aid for KDE
KGeography is an aid for learning about world geography. You can use it to explore a map, show information about regions and features, and play quiz games to test your geography knowledge.
This package is part of the KDE education module.
Andere aan kgeography gerelateerde pakketten
kgeography downloaden
Pakket downloaden voor alle beschikbare platforms

| Platform | Pakketgrootte | Geïnstalleerde grootte | Bestanden |
| --- | --- | --- | --- |
| alpha (unofficial port) | 82,9 kB | 381,0 kB | [overzicht] |
| amd64 | 83,0 kB | 316,0 kB | [overzicht] |
| arm64 | 71,5 kB | 301,0 kB | [overzicht] |
| armel | 71,1 kB | 254,0 kB | [overzicht] |
| armhf | 71,6 kB | 206,0 kB | [overzicht] |
| hppa (unofficial port) | 82,9 kB | 315,0 kB | [overzicht] |
| i386 | 91,8 kB | 326,0 kB | [overzicht] |
| m68k (unofficial port) | 72,6 kB | 268,0 kB | [overzicht] |
| mips | 71,2 kB | 322,0 kB | [overzicht] |
| mips64el | 73,8 kB | 348,0 kB | [overzicht] |
| mipsel | 72,9 kB | 322,0 kB | [overzicht] |
| powerpcspe (unofficial port) | 74,8 kB | 346,0 kB | [overzicht] |
| ppc64 (unofficial port) | 78,7 kB | 419,0 kB | [overzicht] |
| ppc64el | 77,5 kB | 412,0 kB | [overzicht] |
| riscv64 (unofficial port) | 73,1 kB | 248,0 kB | [overzicht] |
| s390x | 78,3 kB | 352,0 kB | [overzicht] |
| sh4 (unofficial port) | 88,4 kB | 246,0 kB | [overzicht] |
| sparc64 (unofficial port) | 69,5 kB | 335,0 kB | [overzicht] |
| x32 (unofficial port) | 83,1 kB | 279,0 kB | [overzicht] |