Pakket: chromium-bsu (0.9.16.1-3 en anderen)
Verwijzigingen voor chromium-bsu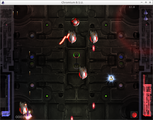 Debian bronnen:
Het bronpakket chromium-bsu downloaden:
Beheerders:
Externe bronnen:
Vergelijkbare pakketten:
fast paced, arcade-style, scrolling space shooter
Chromium is a top down fast paced high action scrolling space shooter.
In this game you are the captain of the cargo ship Chromium B.S.U. and are responsible for delivering supplies to the troops on the front line. Your ship has a small fleet of robotic fighters which you control from the relative safety of the Chromium vessel.
Andere aan chromium-bsu gerelateerde pakketten
chromium-bsu downloaden
Pakket downloaden voor alle beschikbare platforms

| Platform | Versie | Pakketgrootte | Geïnstalleerde grootte | Bestanden |
| --- | --- | --- | --- | --- |
| alpha (unofficial port) | 0.9.16.1-3 | 124,8 kB | 456,0 kB | [overzicht] |
| amd64 | 0.9.16.1-3 | 120,6 kB | 402,0 kB | [overzicht] |
| arm64 | 0.9.16.1-3 | 113,6 kB | 398,0 kB | [overzicht] |
| armel | 0.9.16.1-3 | 111,4 kB | 377,0 kB | [overzicht] |
| armhf | 0.9.16.1-3 | 111,3 kB | 333,0 kB | [overzicht] |
| hppa (unofficial port) | 0.9.16.1-3 | 122,5 kB | 404,0 kB | [overzicht] |
| i386 | 0.9.16.1-3 | 124,9 kB | 425,0 kB | [overzicht] |
| ia64 (unofficial port) | 0.9.16.1-3 | 144,1 kB | 659,0 kB | [overzicht] |
| m68k (unofficial port) | 0.9.16.1-3 | 119,0 kB | 445,0 kB | [overzicht] |
| mips64el | 0.9.16.1-3 | 124,4 kB | 462,0 kB | [overzicht] |
| ppc64 (unofficial port) | 0.9.16.1-3 | 126,9 kB | 518,0 kB | [overzicht] |
| ppc64el | 0.9.16.1-3 | 125,8 kB | 518,0 kB | [overzicht] |
| riscv64 (unofficial port) | 0.9.16.1-3+b1 | 116,9 kB | 369,0 kB | [overzicht] |
| s390x | 0.9.16.1-3 | 111,3 kB | 402,0 kB | [overzicht] |
| sh4 (unofficial port) | 0.9.16.1-3 | 138,7 kB | 410,0 kB | [overzicht] |
| sparc64 (unofficial port) | 0.9.16.1-3 | 113,6 kB | 420,0 kB | [overzicht] |
| x32 (unofficial port) | 0.9.16.1-3 | 120,7 kB | 389,0 kB | [overzicht] |