Pakket: ncurses-hexedit (0.9.7-14.1)
Verwijzigingen voor ncurses-hexedit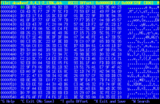 Debian bronnen:
Beheerder:
Vergelijkbare pakketten:
Edit files/disks in hex, ASCII and EBCDIC
Hexedit is a file editor which allows editing and viewing a file in hexadecimal, along with its ASCII or EBCDIC text equivalent. Standard editing features include insert, delete, search (text or byte searches), highlighted changes, undo, two different viewing formats, and full screen text snapshots. Allows editing of fixed disks as well. Includes a binary/octal/decimal/hex converter.
Andere aan ncurses-hexedit gerelateerde pakketten
dep:

libc6 (>= 2.13-28) [armhf]

GNU C Bibliotheek: Gedeelde bibliotheken
Ook een virtueel pakket geboden door: libc6-udeb

dep:

libc6 (>= 2.3) [amd64, i386]

dep:

libc6 (>= 2.4) [armel]

dep:

libncurses5 (>= 5.5-5~)

shared libraries for terminal handling

dep:

libtinfo5

shared low-level terminfo library for terminal handling