Pakket: libreoffice-base-core (1:5.4.0~rc2-1)
Verwijzigingen voor libreoffice-base-core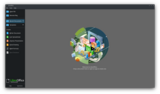 Debian bronnen:
Het bronpakket libreoffice downloaden:
Beheerders:
Externe bronnen:
Vergelijkbare pakketten:
Experimenteel pakket
Warning: This package is from the experimental distribution. That means it is likely unstable or buggy, and it may even cause data loss. Please be sure to consult the changelog and other possible documentation before using it.
office productivity suite -- shared library
LibreOffice is a full-featured office productivity suite that provides a near drop-in replacement for Microsoft(R) Office.
This package contains libdba, a common library of the LibreOffice suite used by Base, Writer and Calc.
If you need full Base functionality (or actual database drivers), please install libreoffice-base.
Andere aan libreoffice-base-core gerelateerde pakketten