Pakket: libreoffice-draw (1:5.4.0~beta2-4 en anderen)
Verwijzigingen voor libreoffice-draw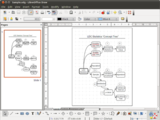 Debian bronnen:
Het bronpakket libreoffice downloaden:
Beheerders:
Externe bronnen:
Vergelijkbare pakketten:
Experimenteel pakket
Warning: This package is from the experimental distribution. That means it is likely unstable or buggy, and it may even cause data loss. Please be sure to consult the changelog and other possible documentation before using it.
kantoorpakket -- tekenen
LibreOffice is een volledig kantoorpakket, dat gemakkelijk als vervanging kan dienen voor Microsoft(R) Office.
Dit pakket bevat het tekenenonderdeel van LibreOffice.
Andere aan libreoffice-draw gerelateerde pakketten
libreoffice-draw downloaden
Pakket downloaden voor alle beschikbare platforms

| Platform | Versie | Pakketgrootte | Geïnstalleerde grootte | Bestanden |
| --- | --- | --- | --- | --- |
| alpha (unofficial port) | 1:5.3.3-2 | 2.560,6 kB | 12.247,0 kB | [overzicht] |
| amd64 | 1:5.4.0~beta2-4 | 2.550,5 kB | 9.905,0 kB | [overzicht] |
| arm64 | 1:5.4.0~beta2-4 | 2.273,4 kB | 9.637,0 kB | [overzicht] |
| armel | 1:5.4.0~beta2-4 | 2.180,8 kB | 8.008,0 kB | [overzicht] |
| armhf | 1:5.4.0~beta2-4 | 2.270,2 kB | 6.236,0 kB | [overzicht] |
| i386 | 1:5.4.0~beta2-4 | 2.714,4 kB | 9.432,0 kB | [overzicht] |
| kfreebsd-amd64 | 1:5.3.0~rc2-1 | 2.461,8 kB | 9.862,0 kB | [overzicht] |
| kfreebsd-i386 | 1:5.3.0~rc2-1 | 2.625,5 kB | 9.162,0 kB | [overzicht] |
| m68k (unofficial port) | 1:5.3.3-2 | 2.266,5 kB | 8.782,0 kB | [overzicht] |
| mips | 1:5.3.3-2 | 2.061,0 kB | 10.495,0 kB | [overzicht] |
| mips64el | 1:5.4.0~beta2-4 | 2.161,0 kB | 11.734,0 kB | [overzicht] |
| mipsel | 1:5.4.0~beta2-4 | 2.184,9 kB | 10.712,0 kB | [overzicht] |
| powerpc | 1:5.3.3-2 | 2.217,4 kB | 10.237,0 kB | [overzicht] |
| ppc64el | 1:5.4.0~beta2-4 | 2.422,1 kB | 11.841,0 kB | [overzicht] |
| s390x | 1:5.3.3-2 | 2.255,4 kB | 10.784,0 kB | [overzicht] |
| sparc64 (unofficial port) | 1:5.3.3-2 | 1.999,0 kB | 9.900,0 kB | [overzicht] |