Pakket: icewm-lite (1.4.3.0~pre-20171225-1 en anderen)
Verwijzigingen voor icewm-lite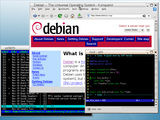 Debian bronnen:
Het bronpakket icewm downloaden:
Beheerder:
Vergelijkbare pakketten:
Experimenteel pakket
Warning: This package is from the experimental distribution. That means it is likely unstable or buggy, and it may even cause data loss. Please be sure to consult the changelog and other possible documentation before using it.
wonderful Win95-OS/2-Motif-like window manager
IceWm is a Window Manager for X Window System. It is fast and memory-efficient, and it provides many different looks including Windows'95, OS/2 Warp 3,4, Motif. It tries to take the best features of the above systems. Additional features include multiple workspaces, opaque move/resize, task bar, window list, mailbox status, digital clock.
This package provides a minimal icewm binary with no support for taskbar and antialiased fonts.
Andere aan icewm-lite gerelateerde pakketten
icewm-lite downloaden
Pakket downloaden voor alle beschikbare platforms

| Platform | Versie | Pakketgrootte | Geïnstalleerde grootte | Bestanden |
| --- | --- | --- | --- | --- |
| alpha (unofficial port) | 1.4.3.0~pre-20171017-1 | 347,0 kB | 2.118,0 kB | [overzicht] |
| amd64 | 1.4.3.0~pre-20171225-1 | 3,4 kB | 33,0 kB | [overzicht] |
| arm64 | 1.4.3.0~pre-20171225-1 | 3,4 kB | 33,0 kB | [overzicht] |
| armel | 1.4.3.0~pre-20171225-1 | 3,4 kB | 33,0 kB | [overzicht] |
| armhf | 1.4.3.0~pre-20171225-1 | 3,4 kB | 33,0 kB | [overzicht] |
| hppa (unofficial port) | 1.4.3.0~pre-20171017-1 | 307,8 kB | 1.696,0 kB | [overzicht] |
| hurd-i386 | 1.4.3+mod+20170901-1 | 340,5 kB | 1.586,0 kB | [overzicht] |
| i386 | 1.4.3.0~pre-20171225-1 | 3,3 kB | 33,0 kB | [overzicht] |
| kfreebsd-amd64 | 1.4.3+mod+20170901-1 | 321,6 kB | 1.628,0 kB | [overzicht] |
| kfreebsd-i386 | 1.4.3+mod+20170901-1 | 337,1 kB | 1.582,0 kB | [overzicht] |
| m68k (unofficial port) | 1.4.3.0~pre-20171017-1 | 300,2 kB | 1.517,0 kB | [overzicht] |
| mips | 1.4.3.0~pre-20171225-1 | 3,4 kB | 33,0 kB | [overzicht] |
| mips64el | 1.4.3.0~pre-20171225-1 | 3,4 kB | 33,0 kB | [overzicht] |
| mipsel | 1.4.3.0~pre-20171225-1 | 3,4 kB | 33,0 kB | [overzicht] |
| powerpc | 1.4.3.0~pre-20171225-1 | 3,4 kB | 33,0 kB | [overzicht] |
| powerpcspe (unofficial port) | 1.4.3.0~pre-20171225-1 | 3,4 kB | 33,0 kB | [overzicht] |
| ppc64 (unofficial port) | 1.4.3.0~pre-20171225-1 | 3,4 kB | 33,0 kB | [overzicht] |
| ppc64el | 1.4.3.0~pre-20171225-1 | 3,4 kB | 33,0 kB | [overzicht] |
| s390x | 1.4.3.0~pre-20171225-1 | 3,4 kB | 33,0 kB | [overzicht] |
| sh4 (unofficial port) | 1.4.3.0~pre-20171017-1 | 366,7 kB | 1.582,0 kB | [overzicht] |
| sparc64 (unofficial port) | 1.4.3.0~pre-20171225-1 | 3,4 kB | 33,0 kB | [overzicht] |
| x32 (unofficial port) | 1.4.3.0~pre-20171225-1 | 3,4 kB | 33,0 kB | [overzicht] |