Pakket: windowlab (1.40-3 en anderen)
Verwijzigingen voor windowlab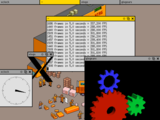 Debian bronnen:
Het bronpakket windowlab downloaden:
Beheerder:
Externe bronnen:
Vergelijkbare pakketten:
small and simple Amiga-like window manager
WindowLab is a Window Manager for the X Window System. Features include click-to-focus, a simple menu/taskbar combination and integration with Debian menu system and Xsessions subsystem.
WindowLab is incredibly fast and small. It is suitable for lightweight systems. Virtual desktops are easily constructed using the independent package "vdesk".
Andere aan windowlab gerelateerde pakketten
sug:

vdesk

manages virtual desktops for minimal window managers
windowlab downloaden
Pakket downloaden voor alle beschikbare platforms

| Platform | Versie | Pakketgrootte | Geïnstalleerde grootte | Bestanden |
| --- | --- | --- | --- | --- |
| amd64 | 1.40-3+b1 | 42,7 kB | 104,0 kB | [overzicht] |
| arm64 | 1.40-3+b1 | 41,2 kB | 103,0 kB | [overzicht] |
| armel | 1.40-3+b1 | 41,9 kB | 103,0 kB | [overzicht] |
| armhf | 1.40-3+b1 | 41,8 kB | 95,0 kB | [overzicht] |
| i386 | 1.40-3+b1 | 44,0 kB | 106,0 kB | [overzicht] |
| mips | 1.40-3+b1 | 42,8 kB | 109,0 kB | [overzicht] |
| mips64el | 1.40-3+b1 | 43,1 kB | 115,0 kB | [overzicht] |
| mipsel | 1.40-3+b1 | 43,0 kB | 109,0 kB | [overzicht] |
| ppc64el | 1.40-3+b1 | 41,3 kB | 127,0 kB | [overzicht] |
| s390x | 1.40-3+b1 | 43,8 kB | 116,0 kB | [overzicht] |