Pakket: tig (2.4.1-1)
Verwijzigingen voor tig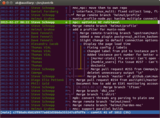 Debian bronnen:
Het bronpakket tig downloaden:
Beheerder:
Externe bronnen:
Vergelijkbare pakketten:
ncurses-based text-mode interface for Git
This package contains a text-mode interface for the version control system Git. It may be used to browse the history and contents of a repository.
The following main features are supported:

 - View revision logs, commit messages, diffstats, diffs, archive trees and
   file contents.
 - Visualize revision graphs.
 - Stage / unstage changes and add untracked files.
 - Merge files.
 - Cherry-pick commits.

tig may also be used as a pager. It reads input from stdin and colorizes it.
Andere aan tig gerelateerde pakketten
enh:

git

fast, scalable, distributed revision control system
tig downloaden
Pakket downloaden voor alle beschikbare platforms

| Platform | Pakketgrootte | Geïnstalleerde grootte | Bestanden |
| --- | --- | --- | --- |
| amd64 | 352,5 kB | 1.109,0 kB | [overzicht] |
| arm64 | 348,6 kB | 1.112,0 kB | [overzicht] |
| armel | 334,4 kB | 1.049,0 kB | [overzicht] |
| armhf | 333,9 kB | 985,0 kB | [overzicht] |
| i386 | 359,9 kB | 1.113,0 kB | [overzicht] |
| mips | 336,9 kB | 1.108,0 kB | [overzicht] |
| mips64el | 339,7 kB | 1.165,0 kB | [overzicht] |
| mipsel | 339,2 kB | 1.108,0 kB | [overzicht] |
| ppc64el | 379,1 kB | 1.304,0 kB | [overzicht] |
| s390x | 343,3 kB | 1.129,0 kB | [overzicht] |