Pakket: slashem (0.0.7E7F3-9 en anderen)
Verwijzigingen voor slashem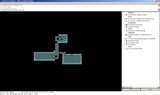 Debian bronnen:
Het bronpakket slashem downloaden:
Beheerders:
Externe bronnen:
Vergelijkbare pakketten:
variant of Nethack
Super Lotsa Added Stuff Hack - Extended Magic (SLASH'EM) is a role-playing game where you control a single character. The interface and gameplay are similar in style to Rogue, ADOM, Angband and, of course, Nethack. You control the actions through the keyboard and view the world from an overhead perspective.
The problem: The Amulet of Yendor has been stolen. Not only that but it appears that the Wizard of Yendor (not a nice person), who took the amulet, is hiding in the Dungeons of Doom (not a friendly place).
This package contains the basic ASCII interface. For more fancy graphical interfaces see

 slashem-x11 - Simple graphic interface using Xaw
 slashem-sdl - Graphical interface usnig SDL
 slashem-gtk - Graphical interface usnig Gtk

Andere aan slashem gerelateerde pakketten
slashem downloaden
Pakket downloaden voor alle beschikbare platforms

| Platform | Versie | Pakketgrootte | Geïnstalleerde grootte | Bestanden |
| --- | --- | --- | --- | --- |
| amd64 | 0.0.7E7F3-9+b1 | 1.069,8 kB | 2.388,0 kB | [overzicht] |
| arm64 | 0.0.7E7F3-9+b1 | 929,3 kB | 2.331,0 kB | [overzicht] |
| armel | 0.0.7E7F3-9+b1 | 926,7 kB | 2.276,0 kB | [overzicht] |
| armhf | 0.0.7E7F3-9+b1 | 954,5 kB | 1.732,0 kB | [overzicht] |
| i386 | 0.0.7E7F3-9+b1 | 1.103,6 kB | 2.700,0 kB | [overzicht] |
| mips | 0.0.7E7F3-9+b1 | 928,1 kB | 2.642,0 kB | [overzicht] |
| mips64el | 0.0.7E7F3-9+b1 | 957,4 kB | 2.954,0 kB | [overzicht] |
| mipsel | 0.0.7E7F3-9+b1 | 943,6 kB | 2.642,0 kB | [overzicht] |
| ppc64el | 0.0.7E7F3-9+b1 | 972,5 kB | 2.907,0 kB | [overzicht] |
| s390x | 0.0.7E7F3-9+b1 | 968,5 kB | 2.581,0 kB | [overzicht] |