Pakket: remmina (1.2.0-rcgit.20-4)
Verwijzigingen voor remmina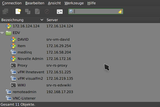 Debian bronnen:
Het bronpakket remmina downloaden:
Beheerders:
Externe bronnen:
Vergelijkbare pakketten:
remote desktop client for GNOME desktop environment
Remmina is a remote desktop connection client able to display and control a remote desktop session.
It supports multiple network protocols in an integrated and consistent user interface. Currently RDP, VNC, NX, XDMCP and SSH protocols are supported.
Andere aan remmina gerelateerde pakketten
remmina downloaden
Pakket downloaden voor alle beschikbare platforms

| Platform | Pakketgrootte | Geïnstalleerde grootte | Bestanden |
| --- | --- | --- | --- |
| amd64 | 133,6 kB | 393,0 kB | [overzicht] |
| arm64 | 111,9 kB | 357,0 kB | [overzicht] |
| armel | 112,3 kB | 327,0 kB | [overzicht] |
| armhf | 113,7 kB | 259,0 kB | [overzicht] |
| i386 | 147,5 kB | 436,0 kB | [overzicht] |
| mips | 113,6 kB | 432,0 kB | [overzicht] |
| mips64el | 112,5 kB | 434,0 kB | [overzicht] |
| mipsel | 115,5 kB | 432,0 kB | [overzicht] |
| ppc64el | 123,2 kB | 489,0 kB | [overzicht] |
| s390x | 123,6 kB | 433,0 kB | [overzicht] |