Pakket: tora (2.1.3-4)
Verwijzigingen voor tora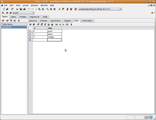 Debian bronnen:
Het bronpakket tora downloaden:
Beheerders:
Externe bronnen:
Vergelijkbare pakketten:
graphical toolkit for database developers and administrators
TOra features a schema browser, SQL worksheet, PL/SQL editor & debugger, storage manager, rollback segment monitor, instance manager, and SQL output viewer. Via Qt4 it can access PostgreSQL and MySQL directly. Any other database systems can be accessed via ODBC.
Andere aan tora gerelateerde pakketten
tora downloaden
Pakket downloaden voor alle beschikbare platforms

| Platform | Pakketgrootte | Geïnstalleerde grootte | Bestanden |
| --- | --- | --- | --- |
| amd64 | 4.766,2 kB | 13.108,0 kB | [overzicht] |
| arm64 | 4.506,6 kB | 12.487,0 kB | [overzicht] |
| armel | 4.443,6 kB | 11.756,0 kB | [overzicht] |
| armhf | 4.421,9 kB | 10.604,0 kB | [overzicht] |
| i386 | 4.826,4 kB | 12.906,0 kB | [overzicht] |
| mips | 4.332,4 kB | 13.191,0 kB | [overzicht] |
| mips64el | 4.347,8 kB | 13.758,0 kB | [overzicht] |
| mipsel | 4.356,2 kB | 13.191,0 kB | [overzicht] |
| ppc64el | 4.590,3 kB | 13.560,0 kB | [overzicht] |
| s390x | 4.553,7 kB | 13.122,0 kB | [overzicht] |