Pakket: quickroute-gps (2.4-15)
Verwijzigingen voor quickroute-gps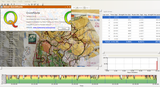 Debian bronnen:
Beheerder:
Externe bronnen:
Vergelijkbare pakketten:
GPS analysis software for getting your route on the map
QuickRoute is a visual GPS analysis software for orienteering and other outdoor activities. You can to display your route on a map, and review split times and pace. It also allows direct upload of the routes to a digital orienteering map archive (DOMA) or overlay it in Google Earth.
Andere aan quickroute-gps gerelateerde pakketten
quickroute-gps downloaden
Pakket downloaden voor alle beschikbare platforms

| Platform | Pakketgrootte | Geïnstalleerde grootte | Bestanden |
| --- | --- | --- | --- |
| amd64 | 585,7 kB | 2.090,0 kB | [overzicht] |
| arm64 | 585,5 kB | 2.090,0 kB | [overzicht] |
| armel | 585,3 kB | 2.090,0 kB | [overzicht] |
| armhf | 585,4 kB | 2.090,0 kB | [overzicht] |
| i386 | 585,7 kB | 2.090,0 kB | [overzicht] |
| mipsel | 585,5 kB | 2.090,0 kB | [overzicht] |
| ppc64el | 585,3 kB | 2.090,0 kB | [overzicht] |
| s390x | 585,4 kB | 2.090,0 kB | [overzicht] |