Pakket: curtain (0.3-1.1)
Verwijzigingen voor curtain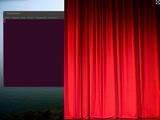 Debian bronnen:
Het bronpakket curtain downloaden:
Beheerder:
Externe bronnen:
Vergelijkbare pakketten:
handy curtain for the desktop
Curtain is a tool that shows a movable and resizable curtain on the desktop. This is especially useful when making presentations to hide and unhide things.
Curtain is XInput-Aware, so you can use it with a graphic tablet or a whiteboard.
This program has been implemented for educational purposes.
Andere aan curtain gerelateerde pakketten
curtain downloaden
Pakket downloaden voor alle beschikbare platforms

| Platform | Pakketgrootte | Geïnstalleerde grootte | Bestanden |
| --- | --- | --- | --- |
| amd64 | 777,3 kB | 846,0 kB | [overzicht] |
| arm64 | 776,3 kB | 842,0 kB | [overzicht] |
| armel | 778,3 kB | 845,0 kB | [overzicht] |
| armhf | 776,4 kB | 837,0 kB | [overzicht] |
| i386 | 777,8 kB | 841,0 kB | [overzicht] |
| mips | 777,4 kB | 842,0 kB | [overzicht] |
| mips64el | 777,2 kB | 847,0 kB | [overzicht] |
| mipsel | 777,4 kB | 842,0 kB | [overzicht] |
| ppc64el | 777,0 kB | 890,0 kB | [overzicht] |
| s390x | 777,1 kB | 846,0 kB | [overzicht] |