Pakket: budgie-window-mover-applet (0.7.1-3)
Verwijzigingen voor budgie-window-mover-applet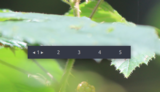 Debian bronnen:
Het bronpakket budgie-extras downloaden:
Beheerder:
Externe bronnen:
Vergelijkbare pakketten:
Applet allows moving windows between workspaces for the Budgie Desktop
This is part of a suite of python3 and Vala based applets for the Budgie Desktop that provide additional user orientated capabilities. The applets can be used individually or as a set.
The Window Mover applet allows the user to quickly move windows to any of the other workspaces. Just drag a window to the bottom of the screen and a bar will popup, representing the workspaces. Click on any of the numbers (or press the corresponding number on the keyboard) and the window will move to that workspace.
Andere aan budgie-window-mover-applet gerelateerde pakketten