Pakket: lmarbles (1.0.8-0.2)
Verwijzigingen voor lmarbles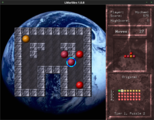 Debian bronnen:
Het bronpakket lmarbles downloaden:
Beheerder:
Externe bronnen:
Vergelijkbare pakketten:
game where you build figures out of colored marbles
The goal of this game is to create a more or less complex figure out of single marbles within a time limit to reach the next level. Sounds easy? Well, there is a problem: If a marble starts to move, it will not stop until it hits a wall or another marble.
Andere aan lmarbles gerelateerde pakketten
dep:

libc6 (>= 2.7)

GNU C Bibliotheek: Gedeelde bibliotheken
Ook een virtueel pakket geboden door: libc6-udeb

dep:

libsdl-mixer1.2

Mixer library for Simple DirectMedia Layer 1.2, libraries

dep:

libsdl1.2debian (>= 1.2.11)

Simple DirectMedia Layer