Pakket: konsole (4:18.04.0-1)
Verwijzigingen voor konsole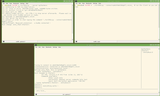 Debian bronnen:
Het bronpakket konsole downloaden:
Beheerders:
Externe bronnen:
Vergelijkbare pakketten:
X terminal emulator
Konsole is a terminal emulator built on the KDE Platform. It can contain multiple terminal sessions inside one window using detachable tabs.
Konsole supports powerful terminal features, such as customizable schemes, saved sessions, and output monitoring.
Andere aan konsole gerelateerde pakketten
konsole downloaden
Pakket downloaden voor alle beschikbare platforms

| Platform | Pakketgrootte | Geïnstalleerde grootte | Bestanden |
| --- | --- | --- | --- |
| amd64 | 702,6 kB | 3.676,0 kB | [overzicht] |
| arm64 | 692,6 kB | 3.663,0 kB | [overzicht] |
| armel | 693,6 kB | 3.625,0 kB | [overzicht] |
| armhf | 695,8 kB | 3.585,0 kB | [overzicht] |
| i386 | 709,7 kB | 3.696,0 kB | [overzicht] |
| mips | 691,3 kB | 3.689,0 kB | [overzicht] |
| mips64el | 693,3 kB | 3.712,0 kB | [overzicht] |
| mipsel | 692,9 kB | 3.689,0 kB | [overzicht] |
| ppc64el | 697,9 kB | 3.830,0 kB | [overzicht] |
| s390x | 695,6 kB | 3.696,0 kB | [overzicht] |