Pakket: kde-plasma-desktop (5:102)
Verwijzigingen voor kde-plasma-desktop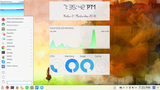 Debian bronnen:
Het bronpakket meta-kde downloaden:
Beheerders:
Externe bronnen:
Vergelijkbare pakketten:
KDE Plasma Desktop and minimal set of applications
KDE is the powerful, integrated, and easy-to-use Free Software desktop platform and suite of applications.
This metapackage pulls in the core modules released with the KDE Software Compilation including the basic KDE Plasma Desktop, minimal set of basic applications (browser, file manager, text editor, system settings, panel, etc.), important libraries and data.
Andere aan kde-plasma-desktop gerelateerde pakketten
rec:

kwin-x11 (>= 4:5.10)

KDE window manager, X11 version

rec:

sddm (>= 0.11)

modern display manager for X11

rec:

xserver-xorg

X.Org X server
sug:

kdeconnect

connect smartphones to your KDE Plasma Workspace
kde-plasma-desktop downloaden
Pakket downloaden voor alle beschikbare platforms

| Platform | Pakketgrootte | Geïnstalleerde grootte | Bestanden |
| --- | --- | --- | --- |
| amd64 | 15,0 kB | 21,0 kB | [overzicht] |
| arm64 | 15,0 kB | 21,0 kB | [overzicht] |
| armel | 15,0 kB | 21,0 kB | [overzicht] |
| armhf | 15,0 kB | 21,0 kB | [overzicht] |
| i386 | 15,0 kB | 21,0 kB | [overzicht] |
| mips | 15,0 kB | 21,0 kB | [overzicht] |
| mips64el | 15,0 kB | 21,0 kB | [overzicht] |
| mipsel | 15,0 kB | 21,0 kB | [overzicht] |
| ppc64el | 15,0 kB | 21,0 kB | [overzicht] |
| s390x | 15,0 kB | 21,0 kB | [overzicht] |