Pakket: jumpnbump (1.60-4)
Verwijzigingen voor jumpnbump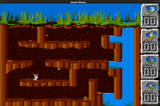 Debian bronnen:
Het bronpakket jumpnbump downloaden:
Beheerders:
Externe bronnen:
Vergelijkbare pakketten:
cute multiplayer platform game with bunnies
You, as a bunny, have to jump on your opponents to make them explode. It's a true multiplayer game, you can't play this alone. It has network support.
This program is a unix port of the old DOS game by brainchilddesign.
Andere aan jumpnbump gerelateerde pakketten
sug:

jumpnbump-levels

cute multiplayer platform game with bunnies (extra levels)
jumpnbump downloaden
Pakket downloaden voor alle beschikbare platforms

| Platform | Pakketgrootte | Geïnstalleerde grootte | Bestanden |
| --- | --- | --- | --- |
| amd64 | 236,4 kB | 649,0 kB | [overzicht] |
| arm64 | 234,1 kB | 637,0 kB | [overzicht] |
| armel | 232,4 kB | 620,0 kB | [overzicht] |
| armhf | 231,4 kB | 592,0 kB | [overzicht] |
| i386 | 237,4 kB | 652,0 kB | [overzicht] |
| mips | 235,5 kB | 641,0 kB | [overzicht] |
| mips64el | 237,1 kB | 654,0 kB | [overzicht] |
| mipsel | 236,2 kB | 641,0 kB | [overzicht] |
| ppc64el | 239,9 kB | 840,0 kB | [overzicht] |
| s390x | 233,7 kB | 641,0 kB | [overzicht] |