Pakket: chafa (1.0.1-2 en anderen)
Verwijzigingen voor chafa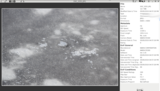 Debian bronnen:
Het bronpakket chafa downloaden:
Beheerder:
Externe bronnen:
Vergelijkbare pakketten:
Image-to-text converter supporting a wide range of symbols, etc.
Chafa is a command-line utility that converts all kinds of images, including animated image formats like GIFs, into ANSI/Unicode character output that can be displayed in a terminal.
It is highly configurable, with support for alpha transparency and multiple color modes and color spaces, combining a range of Unicode characters for optimal output.
The core functionality is provided by a C library with a public, well-documented API.
This package ships the command line tool.
Andere aan chafa gerelateerde pakketten