Pakket: gav (0.9.0-3 en anderen)
Verwijzigingen voor gav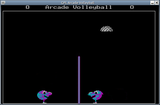 Debian bronnen:
Het bronpakket gav downloaden:
Beheerder:
Externe bronnen:
Vergelijkbare pakketten:
GPL Arcade Volleyball
GAV stands for GPL Arcade Volleyball, and is an SDL remake of the old DOS game Arcade Volleyball. It includes multiplayer, networking, and themeable graphics support.
More information, as well as additional themes, can be found at <http://gav.sourceforge.net>.
Andere aan gav gerelateerde pakketten
rec:

gav-themes

Extra themes for GPL Arcade Volleyball
gav downloaden
Pakket downloaden voor alle beschikbare platforms

| Platform | Versie | Pakketgrootte | Geïnstalleerde grootte | Bestanden |
| --- | --- | --- | --- | --- |
| amd64 | 0.9.0-3+b2 | 118,4 kB | 281,0 kB | [overzicht] |
| arm64 | 0.9.0-3+b2 | 112,2 kB | 261,0 kB | [overzicht] |
| armel | 0.9.0-3+b2 | 109,1 kB | 252,0 kB | [overzicht] |
| armhf | 0.9.0-3+b2 | 109,9 kB | 204,0 kB | [overzicht] |
| i386 | 0.9.0-3+b2 | 124,0 kB | 292,0 kB | [overzicht] |
| mips | 0.9.0-3+b2 | 113,3 kB | 302,0 kB | [overzicht] |
| mips64el | 0.9.0-3+b2 | 114,9 kB | 316,0 kB | [overzicht] |
| mipsel | 0.9.0-3+b2 | 115,0 kB | 302,0 kB | [overzicht] |
| ppc64el | 0.9.0-3+b2 | 116,4 kB | 341,0 kB | [overzicht] |
| s390x | 0.9.0-3+b2 | 117,0 kB | 305,0 kB | [overzicht] |