Pakket: fdclone (3.01h-1)
Verwijzigingen voor fdclone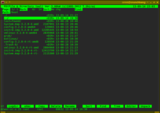 Debian bronnen:
Het bronpakket fdclone downloaden:
Beheerder:
Externe bronnen:
Vergelijkbare pakketten:
console-base lightweight file manager
FD (FD represents "File and Directory") is an easy-to-use file management tool for Un*x newbies. As its name shows, this is a rewrite from scratch - the original version was written by Atsushi Idei for MS-DOS(tm) and once very popular in Japan. Messages are available either in English or in Japanese.
Andere aan fdclone gerelateerde pakketten
dep:

libc6 (>= 2.28)

GNU C Bibliotheek: Gedeelde bibliotheken
Ook een virtueel pakket geboden door: libc6-udeb

dep:

libncurses6 (>= 6)

shared libraries for terminal handling

dep:

libtinfo6 (>= 6)

shared low-level terminfo library for terminal handling
fdclone downloaden
Pakket downloaden voor alle beschikbare platforms

| Platform | Pakketgrootte | Geïnstalleerde grootte | Bestanden |
| --- | --- | --- | --- |
| amd64 | 546,2 kB | 1.166,0 kB | [overzicht] |
| arm64 | 521,1 kB | 1.190,0 kB | [overzicht] |
| armel | 487,9 kB | 1.064,0 kB | [overzicht] |
| armhf | 494,4 kB | 860,0 kB | [overzicht] |
| i386 | 571,4 kB | 1.276,0 kB | [overzicht] |
| mips | 526,7 kB | 1.306,0 kB | [overzicht] |
| mips64el | 530,9 kB | 1.369,0 kB | [overzicht] |
| mipsel | 533,6 kB | 1.306,0 kB | [overzicht] |
| ppc64el | 577,4 kB | 1.490,0 kB | [overzicht] |
| s390x | 521,0 kB | 1.261,0 kB | [overzicht] |