Pakket: backuppc (3.3.2-2)
Verwijzigingen voor backuppc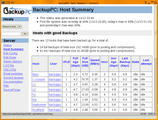 Debian bronnen:
Het bronpakket backuppc downloaden:
Beheerders:
Externe bronnen:
Vergelijkbare pakketten:
hoogwaardig systeem voor het back-uppen van pc's, ook voor ondernemingen
BackupPC is bedoeld voor schijven, niet voor tapes. Hierdoor heeft het functies die u niet vindt in andere backupsoftware:

 * Slimme bundeling brengt schijfopslag en schijf I/O terug tot een minimum.
   Identieke bestanden over meerdere back-ups van dezelfde of andere pc worden
   slechts één keer opgeslagen, hetgeen resulteert in  een grote besparing van
   schijfopslag en schrijfacties. Ook bekend als "data deduplication".
 * Optionele compressie verlaagt de opslag nog verder.
   CPU -belasting door compressie is laag omdat alleen nieuwe bestanden
   (die nog niet in de bundel zitten) gecomprimeerd hoeven te worden.
 * Door de krachtige http/cgi-gebruikersinterface kunnen beheerders
   logbestanden, configuratie en huidige status bekijken, en kunnen
   gebruikers snel back-ups starten en annuleren, en  bestanden van
   back-ups bekijken en terugzetten.
 * Aan de kant van de client is geen software nodig. Op WinXX wordt
   het smb-protocol gebruikt.
   Op Linux- of Unix-clients kan rsync of tar (over ssh/rsh/nfs) gebruikt worden
 * Flexibele terugzetopties. Een enkel bestand kan direct gedownload worden
   van elke back-up vanuit de CGI-interface. Zip of Tar archieven voor geselecteerde
   bestanden of mappen kunnen ook gedownload worden via de CGI-interface.
 * BackupPC ondersteunt mobiele omgevingen waar laptops niet constant
   aangesloten zijn op het netwerk en dynamische IP-adressen (DHCP) hebben.
 * Door de flexibele configuratieparameters kunnen meerdere back-ups parallel
   uitgevoerd worden.
 * en er is nog veel meer te ontdekken in de handleiding...

Andere aan backuppc gerelateerde pakketten
dep:

adduser

toevoegen en verwijderen van gebruikers en groepen

dep:

apache2

Apache HTTP Server

of httpd

virtueel pakket geboden door apache2, ebhttpd, lighttpd, micro-httpd, mini-httpd, nginx-extras, nginx-full, nginx-light, tntnet, webfs, yaws

dep:

apache2-utils

Apache HTTP Server (utility programs for web servers)

dep:

bzip2

high-quality block-sorting file compressor - utilities

dep:

debconf (>= 0.5)

Debian configuratie-beheersysteem

of debconf-2.0

virtueel pakket geboden door cdebconf, cdebconf-udeb, debconf

dep:

default-mta

virtueel pakket geboden door exim4-daemon-light

of exim4

metapackage to ease Exim MTA (v4) installation
virtueel pakket geboden door citadel-server, courier-mta, dma, esmtp-run, exim4-daemon-heavy, exim4-daemon-light, msmtp-mta, nullmailer, opensmtpd, postfix, qmail-run, sendmail-bin

dep:

iputils-ping

Hulpmiddelen om de bereikbaarheid van netwerk-hosts te controleren
ICMP echo tool

dep:

libarchive-zip-perl

Perl module for manipulation of ZIP archives

dep:

libcgi-pm-perl

module for Common Gateway Interface applications

dep:

libdigest-md5-perl

Pakket niet beschikbaar

dep:

libio-compress-perl

bundle of IO::Compress modules

of libcompress-zlib-perl

Pakket niet beschikbaar

dep:

libsocket6-perl

Perl extensions for IPv6

collection of Perl modules for time/date manipulation

dep:

libwww-perl

simple and consistent interface to the world-wide web

dep:

lsb-base

Linux Standard Base init script functionality

dep:

perl

Larry Wall's Practical Extraction and Report Language

dep:

ucf

Update Configuration File(s): preserve user changes to config files
sug:

certbot

automatically configure HTTPS using Let's Encrypt

of acme-tiny

letsencrypt tiny Python client

of acmetool

automatic certificate acquisition tool for Let's Encrypt

of dehydrated

ACME client implemented in Bash

of lacme

ACME client written with process isolation and minimal privileges in mind

of lecm

Pakket niet beschikbaar

of lego

Let's Encrypt client

sug:

par2

PAR 2.0 compatible file verification and repair tool

sug:

w3m

WWW browsable pager with excellent tables/frames support

of www-browser

virtueel pakket geboden door chromium, dillo, edbrowse, elinks, epiphany-browser, falkon, firefox-esr, hv3, konqueror, links, links2, lynx, midori, netrik, sugar-browse-activity, surf, w3m, xemacs21-mule, xemacs21-mule-canna-wnn, xemacs21-nomule
backuppc downloaden
Pakket downloaden voor alle beschikbare platforms

| Platform | Pakketgrootte | Geïnstalleerde grootte | Bestanden |
| --- | --- | --- | --- |
| amd64 | 481,1 kB | 2.284,0 kB | [overzicht] |
| arm64 | 481,0 kB | 2.276,0 kB | [overzicht] |
| armel | 480,9 kB | 2.276,0 kB | [overzicht] |
| armhf | 480,8 kB | 2.276,0 kB | [overzicht] |
| i386 | 481,2 kB | 2.284,0 kB | [overzicht] |
| mips | 481,1 kB | 2.276,0 kB | [overzicht] |
| mips64el | 481,2 kB | 2.277,0 kB | [overzicht] |
| mipsel | 481,1 kB | 2.276,0 kB | [overzicht] |
| ppc64el | 481,4 kB | 2.337,0 kB | [overzicht] |
| s390x | 481,0 kB | 2.276,0 kB | [overzicht] |