Pakket: hexchat (2.14.2-5 en anderen)
Verwijzigingen voor hexchat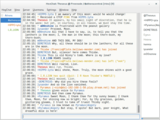 Debian bronnen:
Het bronpakket hexchat downloaden:
Beheerder:
Externe bronnen:
Vergelijkbare pakketten:
IRC client for X based on X-Chat 2
HexChat is a graphical IRC client with a GTK+ GUI. Features include Python and Perl scripting support, a plugin API, multiple server/channel windows, spell checking, multiple authentication methods including SASL, and customizable notifications. For more information on IRC, see http://irchelp.org/.
Andere aan hexchat gerelateerde pakketten
sug:

hexchat-otr

hexchat plugin to support Off The Record (OTR)

sug:

unifont

font with a glyph for each visible Unicode Plane 0 character