Pakket: emerald (0.8.18-2)
Verwijzigingen voor emerald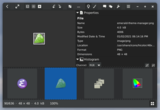 Debian bronnen:
Het bronpakket emerald downloaden:
Beheerders:
Externe bronnen:
Vergelijkbare pakketten:
Decorator for compiz
Emerald is a window decorator for the Compiz window manager, using a custom theme format (*.emerald). It is highly customizable and supports different theme engines, with transparency and precise placement of borders and window title elements.
This package provides a decorator for compiz and a themer application.
Andere aan emerald gerelateerde pakketten
emerald downloaden
Pakket downloaden voor alle beschikbare platforms

| Platform | Pakketgrootte | Geïnstalleerde grootte | Bestanden |
| --- | --- | --- | --- |
| amd64 | 248,4 kB | 995,0 kB | [overzicht] |
| arm64 | 243,2 kB | 987,0 kB | [overzicht] |
| armel | 242,0 kB | 972,0 kB | [overzicht] |
| armhf | 241,1 kB | 940,0 kB | [overzicht] |
| i386 | 252,5 kB | 1.004,0 kB | [overzicht] |
| mips64el | 243,9 kB | 1.002,0 kB | [overzicht] |
| mipsel | 244,7 kB | 998,0 kB | [overzicht] |
| ppc64el | 251,0 kB | 1.103,0 kB | [overzicht] |
| s390x | 243,4 kB | 1.003,0 kB | [overzicht] |