Pakket: debmirror (1:2.32)
Verwijzigingen voor debmirror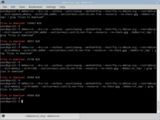 Debian bronnen:
Het bronpakket debmirror downloaden:
Beheerder:
Vergelijkbare pakketten:
Debian partial mirror script, with ftp and package pool support
This program downloads and maintains a partial local Debian mirror. It can mirror any combination of architectures, distributions and sections. Files are transferred by ftp, http, hftp or rsync, and package pools are fully supported. It also does locking and updates trace files.
Andere aan debmirror gerelateerde pakketten
dep:

bzip2

high-quality block-sorting file compressor - utilities

dep:

libdigest-md5-perl

Pakket niet beschikbaar

dep:

libdigest-sha-perl

Perl extension for SHA-1/224/256/384/512, SHA-512/224 and SHA-512/256

Perl module for simple advisory file locking

dep:

libnet-perl

Pakket niet beschikbaar

dep:

libwww-perl (>= 5.815)

simple and consistent interface to the world-wide web

dep:

perl (>= 5.10)

Larry Wall's Practical Extraction and Report Language

dep:

perl (>= 5.22)

Larry Wall's Practical Extraction and Report Language
glue module to make perl modules IPv6 ready

dep:

rsync

fast, versatile, remote (and local) file-copying tool

dep:

xz-utils

XZ-formaat compressiehulpmiddelen
rec:

ed

classic UNIX line editor

rec:

gpgv

GNU privacy guard - signature verification tool

rec:

patch

Het toepassen van een diff bestand toe op een origineel
sug:

gnupg

GNU privacy guard - a free PGP replacement