Pakket: atril (1.24.0-1)
Verwijzigingen voor atril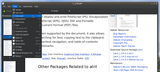 Debian bronnen:
Het bronpakket atril downloaden:
Beheerders:
Externe bronnen:
Vergelijkbare pakketten:
MATE document viewer
Atril is a simple multi-page document viewer. It can display and print PostScript (PS), Encapsulated PostScript (EPS), DJVU, DVI and Portable Document Format (PDF) files.
When supported by the document, it also allows searching for text, copying text to the clipboard, hypertext navigation, and table-of-contents bookmarks.
Andere aan atril gerelateerde pakketten
sug:

caja

file manager for the MATE desktop

sug:

poppler-data

encoding data for the poppler PDF rendering library

sug:

unrar

Unarchiver for .rar files (non-free version)
atril downloaden
Pakket downloaden voor alle beschikbare platforms

| Platform | Pakketgrootte | Geïnstalleerde grootte | Bestanden |
| --- | --- | --- | --- |
| amd64 | 180,7 kB | 683,0 kB | [overzicht] |
| arm64 | 164,6 kB | 674,0 kB | [overzicht] |
| armel | 145,5 kB | 538,0 kB | [overzicht] |
| armhf | 150,2 kB | 438,0 kB | [overzicht] |
| i386 | 195,1 kB | 714,0 kB | [overzicht] |
| mips64el | 156,3 kB | 735,0 kB | [overzicht] |
| mipsel | 160,9 kB | 711,0 kB | [overzicht] |
| ppc64el | 188,2 kB | 987,0 kB | [overzicht] |
| s390x | 166,5 kB | 722,0 kB | [overzicht] |