Pakket: unzip (6.0-28)
Verwijzigingen voor unzip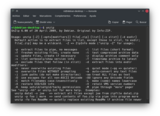 Debian bronnen:
Het bronpakket unzip downloaden:
Beheerder:
Externe bronnen:
Vergelijkbare pakketten:
De-archiver for .zip files
InfoZIP's unzip program. With the exception of multi-volume archives (ie, .ZIP files that are split across several disks using PKZIP's /& option), this can handle any file produced either by PKZIP, or the corresponding InfoZIP zip program.
This version supports encryption.
Andere aan unzip gerelateerde pakketten
dep:

libbz2-1.0

high-quality block-sorting file compressor library - runtime

dep:

libc6 (>= 2.34)

GNU C Bibliotheek: Gedeelde bibliotheken
Ook een virtueel pakket geboden door: libc6-udeb
sug:

zip

Archiveerder voor .zip bestanden
unzip downloaden
Pakket downloaden voor alle beschikbare platforms

| Platform | Pakketgrootte | Geïnstalleerde grootte | Bestanden |
| --- | --- | --- | --- |
| amd64 | 162,6 kB | 379,0 kB | [overzicht] |
| arm64 | 153,4 kB | 490,0 kB | [overzicht] |
| armel | 147,3 kB | 344,0 kB | [overzicht] |
| armhf | 148,7 kB | 292,0 kB | [overzicht] |
| i386 | 162,2 kB | 411,0 kB | [overzicht] |
| mips64el | 156,9 kB | 500,0 kB | [overzicht] |
| mipsel | 159,9 kB | 496,0 kB | [overzicht] |
| ppc64el | 161,3 kB | 490,0 kB | [overzicht] |
| s390x | 152,3 kB | 390,0 kB | [overzicht] |