Pakket: opencubicplayer (1:0.2.101+ds-1)
Verwijzigingen voor opencubicplayer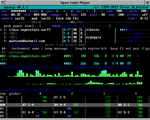 Debian bronnen:
Het bronpakket ocp downloaden:
Beheerders:
Externe bronnen:
Vergelijkbare pakketten:
UNIX port of Open Cubic Player
This is a port of the Open Cubic Player to UNIX from DOS. Provides a nice textbased frontend, with some few optional features in graphical. Plays modules, sids, wave, audio CD, midi, ogg, flac, adlib, mp3, ahx, hvl, and ym.
Andere aan opencubicplayer gerelateerde pakketten
opencubicplayer downloaden
Pakket downloaden voor alle beschikbare platforms

| Platform | Pakketgrootte | Geïnstalleerde grootte | Bestanden |
| --- | --- | --- | --- |
| amd64 | 1.376,3 kB | 4.210,0 kB | [overzicht] |
| arm64 | 1.282,7 kB | 4.929,0 kB | [overzicht] |
| armel | 1.218,6 kB | 4.640,0 kB | [overzicht] |
| armhf | 1.224,0 kB | 3.870,0 kB | [overzicht] |
| i386 | 1.434,7 kB | 4.334,0 kB | [overzicht] |
| mips64el | 1.305,7 kB | 5.017,0 kB | [overzicht] |
| mipsel | 1.293,2 kB | 4.531,0 kB | [overzicht] |
| ppc64el | 1.456,3 kB | 5.953,0 kB | [overzicht] |
| s390x | 1.285,7 kB | 4.357,0 kB | [overzicht] |