Pakket: httping (2.5-5.2)
Verwijzigingen voor httping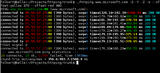 Debian bronnen:
Het bronpakket httping downloaden:
Beheerder:
Externe bronnen:
Vergelijkbare pakketten:
ping-like program for http-requests
httping is like ping for HTTP. It sends requests to a hostname or a remote URL and it shows you how long it takes to connect, send a HTTP request and retrieve the reply (only the header).
It supports SSL as well as various different ways to use it.
Andere aan httping gerelateerde pakketten
httping downloaden
Pakket downloaden voor alle beschikbare platforms

| Platform | Pakketgrootte | Geïnstalleerde grootte | Bestanden |
| --- | --- | --- | --- |
| amd64 | 66,7 kB | 199,0 kB | [overzicht] |
| arm64 | 64,6 kB | 191,0 kB | [overzicht] |
| armel | 64,0 kB | 185,0 kB | [overzicht] |
| armhf | 63,0 kB | 165,0 kB | [overzicht] |
| i386 | 68,3 kB | 201,0 kB | [overzicht] |
| mips64el | 66,3 kB | 209,0 kB | [overzicht] |
| mipsel | 66,4 kB | 202,0 kB | [overzicht] |
| ppc64el | 69,6 kB | 227,0 kB | [overzicht] |
| s390x | 64,1 kB | 195,0 kB | [overzicht] |