Package: kmail (4:4.14.1-1+deb8u2) [security]
Links for kmail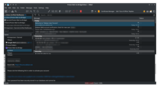 Debian Resources:
Download Source Package kdepim:
Maintainers:
External Resources:
Similar packages:
full featured graphical email client
KMail is a fully-featured email client that fits nicely into the KDE desktop. It has features such as support for IMAP, POP3, multiple accounts, mail filtering and sorting, PGP/GnuPG privacy, and inline attachments.
This package also contains Nepomuk EMail Feeder Akonadi Agent.
This package is part of the KDE PIM module.
Other Packages Related to kmail