パッケージ: otrs2 (6.4.5-1~bpo11+1) [non-free]
otrs2 に関するリンク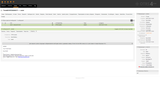 Debian の資源:
znuny ソースパッケージをダウンロード:
メンテナ:
外部の資源:
類似のパッケージ:
Open Ticket Request System Znuny
Znuny is an Open source Ticket Request System (also well known as trouble ticket system) with many features to manage customer telephone calls and e-mails. The system is built to allow your support, sales, pre-sales, billing, internal IT, helpdesk, etc. department to react quickly to inbound inquiries.
This package ships version 6 of Znuny.
その他の otrs2 関連パッケージ
dep:

adduser

ユーザやグループの追加削除

dep:

dbconfig-common (>= 1.8.24)

framework that helps packages to manage databases

dep:

debconf (>= 0.5)

Debian 設定管理システム

または debconf-2.0

パッケージは利用できません

dep:

fonts-dejavu-extra

文字を追加した Vera フォントファミリー派生物 (追加的変種)

dep:

fonts-font-awesome

iconic font designed for use with Twitter Bootstrap

dep:

libapache-dbi-perl

interface connecting Apache server to database via perl's DBI

module for reloading Perl modules when changed on disk

dep:

libauthen-sasl-perl

Authen::SASL - SASL Authentication framework

dep:

libcgi-pm-perl

module for Common Gateway Interface applications

minimalistic variant of Class::Accessor

dep:

libcpan-audit-perl

module to audit CPAN distributions for known vulnerabilities

Perl module implementing the Eksblowfish block cipher

dep:

libcrypt-jwt-perl

JSON Web Token support for Perl

interoperable MD5-based crypt() for Perl

dep:

libcrypt-ssleay-perl

OpenSSL support for LWP

dep:

libcss-minifier-perl

Perl extension for minifying CSS

XS based CSS minifier

dep:

libdata-uuid-perl

globally/universally unique identifiers (GUIDs/UUIDs)
以下のパッケージによって提供される仮想パッケージでもあります: libossp-uuid-perl

dep:

libdate-pcalc-perl

Perl module for Gregorian calendar date calculations

dep:

libdatetime-perl

module for manipulating dates, times and timestamps

dep:

libdbd-pg-perl

PostgreSQL データベースサーバ用 Perl DBI ドライバ
Perl5 database interface to the MariaDB/MySQL database

dep:

libdbi-perl

Perl Database Interface (DBI)

dep:

libdigest-sha-perl

Perl extension for SHA-1/224/256/384/512, SHA-512/224 and SHA-512/256

dep:

libemail-valid-perl

Perl module for checking the validity of Internet email addresses

perl module providing extra sets of Chinese character encodings

module to create Excel spreadsheets in xlsx format

dep:

libgd-gd2-perl

パッケージは利用できません

dep:

libgd-graph-perl

Graph Plotting Module for Perl 5

dep:

libgd-text-perl

Text utilities for use with GD

dep:

libhash-merge-perl

Perl module for merging arbitrarily deep hashes into a single hash

dep:

libhtml-parser-perl

HTML テキスト文書を解析するモジュール集

dep:

libhtml-tagset-perl

data tables pertaining to HTML

Perl module to truncate HTML by percentage or character count

utility module for interactive I/O

dep:

libio-stringy-perl

modules for I/O on in-core objects (strings/arrays)

Perl extension for minifying JavaScript code

XS based JavaScript minifier

dep:

libjson-perl

module for manipulating JSON-formatted data

dep:

libjson-xs-perl

module for manipulating JSON-formatted data (C/XS-accelerated)

Perl module that transliterates text between writing systems

module for detecting the running Linux distribution

dep:

libmail-imapclient-perl (>= 3.31)

Perl library for manipulating IMAP mail stores

POP3 client module for perl

dep:

libmailtools-perl

modules to manipulate email in perl programs

cryptographically-secure, cross-platform replacement for rand()

dep:

libmime-tools-perl

Perl5 modules for MIME-compliant messages

tool to refresh %INC files when updated on disk

dep:

libmoo-perl

Minimalist Object Orientation library (with Moose compatibility)

Perl module to manage an IMAP account

Subclass of Net::IMAP::Simple with SSL support

dep:

libnet-ldap-perl

LDAP サーバへのクライアントインターフェース

dep:

libnet-smtp-ssl-perl

Perl module providing SSL support to Net::SMTP

Perl module for providing SMTP client supporting TLS and AUTH

dep:

libnet-sslglue-perl

module to add/extend SSL support for common perl modules

dep:

libpdf-api2-perl

module for creating or modifying PDF documents in Perl

dep:

libpod-strip-perl

remove POD documentation from Perl code

dep:

libproc-daemon-perl

module for running scripts as daemons

module to find out the times at which a cron entry would run

dep:

libsisimai-perl

Perl module to analyze bounce mails

Perl extension for reading MS Excel 2007 files

module tp determine the long (fully-qualified) hostname

dep:

libtemplate-perl

"Template Toolkit" template processing system in Perl

dep:

libtext-csv-perl

comma-separated values manipulator (using XS or PurePerl)

dep:

libtext-csv-xs-perl

Perl C/XS module to process Comma-Separated Value files

Perl module to generate a colorful HTML diff of strings/files

dep:

libtext-diff-perl

Perl module to find differences in files and record sets

dep:

libxml-feedpp-perl

module to parse/write/merge/edit RSS/RDF/Atom syndication feeds

dep:

libxml-libxml-perl

libxml2 ライブラリへの Perl インターフェース

Perl module that uses the XML::LibXML parser for XML structures

dep:

libxml-libxslt-perl

Perl interface to the GNOME libxslt library

lightweight regexp-based XML parser

または libsoap-lite-perl (<< 1.08-1~)

Perl implementation of a SOAP client and server

dep:

libxml-parser-perl

Perl module for parsing XML files

dep:

libxml-simple-perl

Perl module for reading and writing XML

dep:

libyaml-libyaml-perl

Perl interface to libyaml, a YAML implementation

dep:

libyaml-perl

YAML Ain't Markup Language

dep:

perl

Larry Wall 作の実用的な抽出とレポート用の言語

dep:

ucf

設定ファイルを更新: 設定ファイルへのユーザの変更を保持
sug:

postgresql

オブジェクトリレーショナル SQL データベース (サポート版)
MySQL database server binaries and system database setup (metapackage)