Package: darkradiant (2.14.0-4 and others)
Links for darkradiant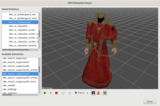 Debian Resources:
Download Source Package darkradiant:
Maintainers:
External Resources:
Similar packages:
catena di strumenti per progettazione di livelli per DOOM3 e The Dark Mod
DarkRadiant è un editor 3D di mappe e livelli per giochi basati sui motori idtech4. Il software è basato su GtkRadiant e si focalizza sui giochi DOOM3 e The Dark Mod. Anche altri giochi basati sullo stesso motore, come Quake 4, possono essere modificabili, ma non sono esplicitamente supportati.
Darkradiant può anche essere utilizzato per creare contenuti liberi per la versione GPL del motore di DOOM3.
Other Packages Related to darkradiant
dep:

fonts-freefont-ttf

tipi di carattere serif, sans e mono TrueType Freefont

dep:

libc6 (>= 2.32) [not alpha, ia64, sh4]

Libreria C GNU: librerie condivise
also a virtual package provided by libc6-udeb

dep:

libc6 (>= 2.33) [sh4]

dep:

libc6.1 (>= 2.30) [ia64]

Libreria C GNU: librerie condivise
also a virtual package provided by libc6.1-udeb

dep:

libc6.1 (>= 2.32) [alpha]

dep:

libftgl2 (>= 2.4.0)

libreria per fare il rendering di testo in OpenGL usando FreeType

dep:

libgcc-s1 (>= 3.0) [amd64, s390x, x32]

libreria di supporto a GCC

dep:

libgcc-s1 (>= 3.4) [alpha, sparc64]

dep:

libgcc-s1 (>= 3.4.4) [ppc64, ppc64el]

dep:

libgcc-s1 (>= 3.5) [armel, armhf]

dep:

libgcc-s1 (>= 4.2) [ia64, mipsel, sh4]

dep:

libgcc-s1 (>= 4.5) [arm64, mips64el, riscv64]

dep:

libgcc-s1 (>= 7) [i386]

dep:

libgcc-s2 (>= 4.2.1) [m68k]

libreria di supporto a GCC

dep:

libgcc-s4 (>= 4.1.1) [hppa]

libreria di supporto a GCC

dep:

libgl1

libreria di dispatch GL indipendente dal produttore -- vecchia gestione GL

dep:

libglew2.1 (>= 1.12.0) [ia64]

Package not available

dep:

libglew2.2 (>= 2.2.0-4) [not ia64]

OpenGL Extension Wrangler - ambiente runtime

dep:

libglib2.0-0 (>= 2.49.3) [not ia64]

libreria GLib di routine in C

dep:

libglu1-mesa

libreria Mesa OpenGL Utility (GLU)

or libglu1

virtual package provided by libglu1-mesa

dep:

libjpeg62-turbo (>= 1.3.1) [not ia64]

libreria JPEG libjpeg-turbo runtime

dep:

libopenal1 (>= 1.14)

implementazione software dell'API audio OpenAL (libreria condivisa)

dep:

libpng16-16 (>= 1.6.2-1) [not ia64]

libreria PNG - runtime (versione 1.6)

dep:

libpython3.10 (>= 3.10.0) [not ia64]

libreria runtime Python condivisa (versione 3.10)

dep:

libpython3.8 (>= 3.8.2) [ia64]

Package not available

dep:

libsigc++-2.0-0v5 (>= 2.8.0)

ambiente a prova di tipo per gestire segnali in C++ (runtime)

dep:

libstdc++6 (>= 11) [not armel, ia64]

libreria GNU Standard C++, versione 3

dep:

libstdc++6 (>= 12-20220319-1) [armel]

dep:

libstdc++6 (>= 9.1) [ia64]

dep:

libunwind8 [ia64]

libreria per tracciare la catena di chiamate di un programma - runtime

dep:

libvorbisfile3 (>= 1.1.2)

API di alto livello per codec di compressione audio generico Vorbis

dep:

libwxbase3.0-0v5 (>= 3.0.5.1+dfsg)

libreria wxBase (runtime) - classi del toolkit wxWidgets senza gestione GUI

dep:

libwxgtk3.0-gtk3-0v5 (>= 3.0.5.1+dfsg)

toolkit wxWidgets per GUI C++ multipiattaforma (runtime GTK 3)

dep:

libx11-6 [sparc64]

libreria X11 lato client

dep:

libxml2 (>= 2.7.4)

libreria XML di GNOME

dep:

zlib1g (>= 1:1.1.4)

libreria di compressione - runtime
plugin specifici di DarkMod per DarkRadiant
Download darkradiant
Download for all available architectures

| Architecture | Version | Package Size | Installed Size | Files |
| --- | --- | --- | --- | --- |
| alpha (unofficial port) | 2.14.0-4 | 6,552.4 kB | 25,625.0 kB | [list of files] |
| amd64 | 2.14.0-4 | 6,680.3 kB | 22,399.0 kB | [list of files] |
| arm64 | 2.14.0-4 | 6,245.4 kB | 21,635.0 kB | [list of files] |
| armel | 2.14.0-4 | 5,980.2 kB | 18,888.0 kB | [list of files] |
| armhf | 2.14.0-4 | 6,076.8 kB | 15,772.0 kB | [list of files] |
| hppa (unofficial port) | 2.14.0-4 | 6,865.6 kB | 24,703.0 kB | [list of files] |
| i386 | 2.14.0-4 | 6,953.9 kB | 21,919.0 kB | [list of files] |
| ia64 (unofficial port) | 2.8.0-1 | 6,325.9 kB | 31,032.0 kB | [list of files] |
| m68k (unofficial port) | 2.14.0-4 | 6,659.1 kB | 21,904.0 kB | [list of files] |
| mips64el | 2.14.0-4 | 6,071.6 kB | 27,573.0 kB | [list of files] |
| mipsel | 2.14.0-4 | 6,056.2 kB | 24,196.0 kB | [list of files] |
| ppc64 (unofficial port) | 2.14.0-4 | 6,653.1 kB | 28,200.0 kB | [list of files] |
| ppc64el | 2.14.0-4 | 6,685.2 kB | 26,216.0 kB | [list of files] |
| riscv64 (unofficial port) | 2.14.0-4 | 6,627.5 kB | 20,713.0 kB | [list of files] |
| s390x | 2.14.0-4 | 6,250.1 kB | 22,863.0 kB | [list of files] |
| sh4 (unofficial port) | 2.14.0-4 | 7,174.5 kB | 21,289.0 kB | [list of files] |
| sparc64 (unofficial port) | 2.14.0-4 | 5,894.7 kB | 22,267.0 kB | [list of files] |
| x32 (unofficial port) | 2.14.0-4 | 6,696.5 kB | 20,471.0 kB | [list of files] |