Package: octave (5.1.0-1)
Links for octave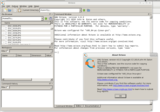 Debian Resources:
Download Source Package octave:
Maintainers:
External Resources:
Similar packages:
Experimental package
Warning: This package is from the experimental distribution. That means it is likely unstable or buggy, and it may even cause data loss. Please be sure to consult the changelog and other possible documentation before using it.
linguaggio GNU Octave per il calcolo numerico
Octave è un linguaggio di alto livello (per la maggior parte compatibile con Matlab®) orientato principalmente al calcolo numerico. Fornisce una comoda interfaccia a riga di comando per risolvere numericamente problemi lineari e non.
Octave può essere esteso dinamicamente con file C++ forniti dall'utente.
Other Packages Related to octave
Download octave
Download for all available architectures

| Architecture | Package Size | Installed Size | Files |
| --- | --- | --- | --- |
| amd64 | 2,219.6 kB | 6,181.0 kB | [list of files] |
| arm64 | 2,098.0 kB | 6,051.0 kB | [list of files] |
| armel | 2,024.7 kB | 5,193.0 kB | [list of files] |
| armhf | 2,042.7 kB | 4,465.0 kB | [list of files] |
| i386 | 2,309.0 kB | 6,107.0 kB | [list of files] |
| m68k (unofficial port) | 2,247.3 kB | 6,177.0 kB | [list of files] |
| mips | 2,018.5 kB | 6,474.0 kB | [list of files] |
| mips64el | 2,037.2 kB | 6,898.0 kB | [list of files] |
| mipsel | 2,038.7 kB | 6,466.0 kB | [list of files] |
| ppc64 (unofficial port) | 2,213.5 kB | 8,241.0 kB | [list of files] |
| ppc64el | 2,198.7 kB | 7,754.0 kB | [list of files] |
| s390x | 2,089.7 kB | 6,283.0 kB | [list of files] |
| x32 (unofficial port) | 2,227.0 kB | 5,702.0 kB | [list of files] |