Package: lilypond (2.19.83-1~exp1 and others)
Links for lilypond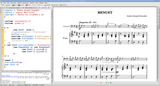 Debian Resources:
Download Source Package lilypond:
Maintainers:
External Resources:
Similar packages:
Experimental package
Warning: This package is from the experimental distribution. That means it is likely unstable or buggy, and it may even cause data loss. Please be sure to consult the changelog and other possible documentation before using it.
programma per impaginare spartiti musicali
LilyPond è un impaginatore di musica, con sistema di bella scrittura automatico. Produce spartiti musicali belli usando un file di descrizione di alto livello come input.
LilyPond supporta molti tipi di notazioni musicali, inclusi accordi, notazione per percussioni, basso numerato, abbellimenti, tablature per chitarra, notazione moderna (collegamenti e raggruppamenti ritmici), tremoli, gruppi irregolari (nidificati) con rapporto di durata arbitrario e altro ancora.
Il supporto per il linguaggio basato su testo per l'input di musica di LilyPond può integrarsi perfettamente in LaTeX, HTML e Texinfo, permettendo di scrivere da un unico sorgente un spartito musicale o trattati di musicologia. La forma ed i contenuti sono separati e, con la formattazione da esperti automatica di LiLyPond, gli utenti non devono essere dei tipografi esperti per produrre una buona notazione.
LilyPond produce output per la stampa PDF, PostScript, SVG o TeX, così come output MIDI per il piacere dell'ascolto. I programmi con interfaccia utente grafica RoseGarden e NoteEdit esportano in formato LilyPond e quest'ultimo può importare ABC, ETF e MIDI.
LilyPond fa parte del Progetto GNU.

 Autori: Han-Wen Nienhuys <hanwen@cs.uu.nl>
         Jan Nieuwenhuizen <janneke@gnu.org>

Other Packages Related to lilypond
sug:

lilypond-doc

documentazione di LilyPond in formato info (e metapacchetto)
Download lilypond
Download for all available architectures

| Architecture | Version | Package Size | Installed Size | Files |
| --- | --- | --- | --- | --- |
| alpha (unofficial port) | 2.19.82-1~exp1 | 1,884.6 kB | 9,120.0 kB | [list of files] |
| amd64 | 2.19.83-1~exp1 | 2,066.2 kB | 7,794.0 kB | [list of files] |
| arm64 | 2.19.83-1~exp1 | 1,834.3 kB | 7,453.0 kB | [list of files] |
| armel | 2.19.83-1~exp1 | 1,736.0 kB | 6,864.0 kB | [list of files] |
| armhf | 2.19.83-1~exp1 | 1,792.2 kB | 5,484.0 kB | [list of files] |
| hppa (unofficial port) | 2.19.83-1~exp1 | 1,883.2 kB | 8,004.0 kB | [list of files] |
| i386 | 2.19.83-1~exp1 | 2,030.7 kB | 7,870.0 kB | [list of files] |
| m68k (unofficial port) | 2.19.83-1~exp1 | 1,621.3 kB | 7,349.0 kB | [list of files] |
| mips64el | 2.19.83-1~exp1 | 1,817.5 kB | 10,201.0 kB | [list of files] |
| mipsel | 2.19.83-1~exp1 | 1,834.6 kB | 9,595.0 kB | [list of files] |
| powerpcspe (unofficial port) | 2.19.83-1~exp1 | 1,812.8 kB | 8,327.0 kB | [list of files] |
| ppc64 (unofficial port) | 2.19.83-1~exp1 | 1,991.4 kB | 10,164.0 kB | [list of files] |
| ppc64el | 2.19.83-1~exp1 | 2,006.0 kB | 9,369.0 kB | [list of files] |
| riscv64 (unofficial port) | 2.19.83-1~exp1 | 1,955.1 kB | 6,684.0 kB | [list of files] |
| s390x | 2.19.83-1~exp1 | 1,797.0 kB | 7,938.0 kB | [list of files] |
| sh4 (unofficial port) | 2.19.83-1~exp1 | 1,868.7 kB | 6,753.0 kB | [list of files] |
| sparc64 (unofficial port) | 2.19.83-1~exp1 | 1,650.0 kB | 7,814.0 kB | [list of files] |
| x32 (unofficial port) | 2.19.83-1~exp1 | 2,008.5 kB | 7,300.0 kB | [list of files] |