Package: boinc-manager (7.14.2+dfsg-3exp1 and others)
Links for boinc-manager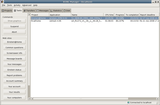 Debian Resources:
Download Source Package boinc:
Maintainers:
External Resources:
Similar packages:
Experimental package
Warning: This package is from the experimental distribution. That means it is likely unstable or buggy, and it may even cause data loss. Please be sure to consult the changelog and other possible documentation before using it.
GUI per controllare e monitorare il client BOINC
Il Berkeley Open Infrastructure for Network Computing (BOINC) è una piattaforma software per il calcolo distribuito su risorse computazionali offerte da volontari.
Questo pacchetto contiene il BOINC Manager, un'interfaccia grafica per monitorare e controllare un client BOINC. Fornisce un riepilogo dettagliato sullo stato del client che si sta monitorando, che contiene:

 * i progetti connessi,
 * i lavori avviati,
 * i trasferimenti di file tra il client e i server di progetto,
 * statistiche relative ai crediti acquisiti e all'utilizzo del disco  per
   ogni progetto,
 * limiti sull'uso della CPU.

BOINC Manager ha due modalità di funzionamento, quella "Semplificata" in cui sono visualizzate solo le informazioni principali e quella "Avanzata" in cui sono disponibili tutte le informazioni e gli elementi di controllo
A differenza del pacchetto raccomandato boinc-client, che è da installare su ogni macchina che contribuisce alla computazione, boinc-manager non è indispensabile per partecipare attivamente ad un progetto BOINC.
Other Packages Related to boinc-manager
Download boinc-manager
Download for all available architectures

| Architecture | Version | Package Size | Installed Size | Files |
| --- | --- | --- | --- | --- |
| amd64 | 7.14.2+dfsg-3exp1 | 1,428.4 kB | 5,789.0 kB | [list of files] |
| arm64 | 7.14.2+dfsg-3exp1 | 1,357.7 kB | 5,544.0 kB | [list of files] |
| armel | 7.14.2+dfsg-3exp1 | 1,331.5 kB | 4,876.0 kB | [list of files] |
| armhf | 7.14.2+dfsg-3exp1 | 1,325.4 kB | 4,476.0 kB | [list of files] |
| hppa (unofficial port) | 7.14.2+dfsg-3exp1 | 1,350.5 kB | 4,810.0 kB | [list of files] |
| hurd-i386 | 7.14.2+dfsg-2exp1 | 1,439.6 kB | 5,319.0 kB | [list of files] |
| i386 | 7.14.2+dfsg-3exp1 | 1,439.9 kB | 5,320.0 kB | [list of files] |
| kfreebsd-amd64 | 7.14.2+dfsg-2exp1 | 1,427.5 kB | 5,780.0 kB | [list of files] |
| kfreebsd-i386 | 7.14.2+dfsg-3exp1 | 1,439.0 kB | 5,316.0 kB | [list of files] |
| m68k (unofficial port) | 7.14.2+dfsg-3exp1 | 1,382.6 kB | 5,343.0 kB | [list of files] |
| mips | 7.14.2+dfsg-3exp1 | 1,307.6 kB | 5,352.0 kB | [list of files] |
| mips64el | 7.14.2+dfsg-3exp1 | 1,295.1 kB | 5,684.0 kB | [list of files] |
| mipsel | 7.14.2+dfsg-3exp1 | 1,318.6 kB | 5,352.0 kB | [list of files] |
| powerpcspe (unofficial port) | 7.12.0+dfsg-1exp2 | 1,369.9 kB | 5,251.0 kB | [list of files] |
| ppc64 (unofficial port) | 7.14.2+dfsg-3exp1 | 1,428.7 kB | 6,204.0 kB | [list of files] |
| ppc64el | 7.14.2+dfsg-3exp1 | 1,442.6 kB | 6,012.0 kB | [list of files] |
| riscv64 (unofficial port) | 7.14.2+dfsg-3exp1 | 1,421.5 kB | 5,415.0 kB | [list of files] |
| s390x | 7.14.2+dfsg-3exp1 | 1,325.6 kB | 5,648.0 kB | [list of files] |
| sh4 (unofficial port) | 7.12.0+dfsg-1exp2 | 1,592.6 kB | 5,158.0 kB | [list of files] |
| sparc64 (unofficial port) | 7.14.2+dfsg-3exp1 | 1,280.1 kB | 5,636.0 kB | [list of files] |
| x32 (unofficial port) | 7.14.2+dfsg-3exp1 | 1,442.7 kB | 5,244.0 kB | [list of files] |