Package: nautilus-sendto (3.8.6-3)
Links for nautilus-sendto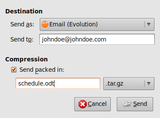 Debian Resources:
Maintainers:
Similar packages:
invio facile di file via email dall'interno di Nautilus
Il plugin Nautilus Send To fornisce al gestore di file Nautilus una voce del menu contestuale per inviare velocemente file via email.
I programmi di posta elettronica gestiti sono Evolution, Thunderbird/Icedove, balsa e Sylpheed/Claws.
Nautilus Send To permette anche di comprimere i file (tar.bz2, tar.gz o zip) prima dell'invio.
Other Packages Related to nautilus-sendto
dep:

libc6 (>= 2.17) [arm64, ppc64el]

Libreria C GNU: librerie condivise
also a virtual package provided by libc6-udeb

dep:

libc6 (>= 2.4) [not arm64, ppc64el]

dep:

libglib2.0-0 (>= 2.30.0)

libreria GLib di routine in C