Package: garden-of-coloured-lights (1.0.9-1 and others)
Links for garden-of-coloured-lights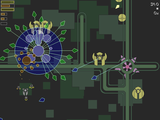 Debian Resources:
Maintainers:
External Resources:
Similar packages:
sparatutto verticale astratto con elementi musicali
Il gioco è fondamentalmente uno sparatutto verticale con elementi musicali. I nemici, infatti, sono piuttosto musicali. Linley ha aggiunto una semplice melodia di sottofondo che viene mescolata con le diverse note suonate quando i nemici sparano.
Parte di ciò che si fa notare riguardo Garden of Coloured Lights è la sua grafica che, benché sia mantenuta piuttosto semplice, è anche attentamente curata. Ogni navicella ha parti in movimento e meccanismi che si aprono e chiudono e ogni livello è diverso anche se tutti condividono un tema comune.
La navicella dell'utente è dotata di 3 opzioni, ciascuna con le proprie armi uniche. Ci sono alcuni schemi predisegnati con cui giocare, oppure si può creare la propria combinazione di armi.
Garden of Coloured Lights è stata la proposta di Linley Henzel per la competizione SHMUP-DEV 2k7 Round 2.
Other Packages Related to garden-of-coloured-lights
Download garden-of-coloured-lights