Package: abiword-plugin-mathview (2.9.2+svn20120603-8)
Links for abiword-plugin-mathview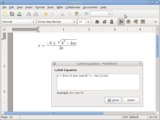 Debian Resources:
Download Source Package abiword:
Maintainer:
External Resources:
Similar packages:
equation editor plugin for AbiWord
AbiWord is a full-featured, efficient word processing application. It is suitable for a wide variety of word processing tasks, and is extensible with a variety of plugins.
This package contains an equation editing system for AbiWord documents.
Other Packages Related to abiword-plugin-mathview
Download abiword-plugin-mathview
Download for all available architectures

| Architecture | Package Size | Installed Size | Files |
| --- | --- | --- | --- |
| amd64 | 794.8 kB | 1,116.0 kB | [list of files] |
| armel | 782.8 kB | 1,063.0 kB | [list of files] |
| armhf | 781.5 kB | 1,035.0 kB | [list of files] |
| i386 | 786.7 kB | 1,055.0 kB | [list of files] |
| ia64 | 797.4 kB | 1,247.0 kB | [list of files] |
| kfreebsd-amd64 | 794.8 kB | 1,121.0 kB | [list of files] |
| kfreebsd-i386 | 787.2 kB | 1,020.0 kB | [list of files] |
| mips | 779.3 kB | 1,082.0 kB | [list of files] |
| mipsel | 780.2 kB | 1,082.0 kB | [list of files] |
| powerpc | 784.7 kB | 1,095.0 kB | [list of files] |
| s390 | 790.3 kB | 1,091.0 kB | [list of files] |
| s390x | 792.5 kB | 1,188.0 kB | [list of files] |
| sparc | 780.0 kB | 1,098.0 kB | [list of files] |