Package: freeciv-client-sdl (2.2.1-1 and others)
Links for freeciv-client-sdl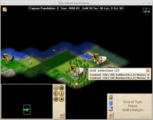 Debian Resources:
Download Source Package freeciv:
Maintainers:
External Resources:
Similar packages:
Civilization turn based strategy game (SDL client)
Freeciv is a free clone of the turn based strategy game Civilization. In this game, each player becomes leader of a civilisation, fighting to obtain the ultimate goal: the extinction of all other civilisations.
This is the SDL version of the Freeciv client.
Other Packages Related to freeciv-client-sdl
rec:

freeciv-server (>= 2.2.0)

Civilization turn based strategy game (server files)
Download freeciv-client-sdl
Download for all available architectures

| Architecture | Version | Package Size | Installed Size | Files |
| --- | --- | --- | --- | --- |
| amd64 | 2.2.1-1 | 621.3 kB | 1,512.0 kB | [list of files] |
| armel | 2.2.1-1 | 554.5 kB | 1,292.0 kB | [list of files] |
| i386 | 2.2.1-1 | 540.7 kB | 1,400.0 kB | [list of files] |
| ia64 | 2.2.1-1 | 1,005.7 kB | 3,508.0 kB | [list of files] |
| kfreebsd-amd64 | 2.2.1-1 | 619.2 kB | 1,502.0 kB | [list of files] |
| kfreebsd-i386 | 2.2.1-1+b1 | 540.3 kB | 1,390.0 kB | [list of files] |
| mips | 2.2.1-1+b1 | 615.1 kB | 2,008.0 kB | [list of files] |
| mipsel | 2.2.1-1 | 611.7 kB | 2,008.0 kB | [list of files] |
| powerpc | 2.2.1-1 | 595.4 kB | 1,548.0 kB | [list of files] |
| s390 | 2.2.1-1 | 609.2 kB | 1,524.0 kB | [list of files] |
| sparc | 2.2.1-1+b1 | 560.6 kB | 1,384.0 kB | [list of files] |