Package: why (2.36-5 and others) [debports]
Links for why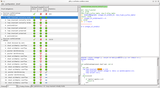 Debian Resources:
Download Source Package :
Not found
Maintainers:
External Resources:
Similar packages:
Software verification tool for C and Java
This package contains Krakatoa and Jessie, two front-ends of the Why3 platform for deductive program verification. Krakatoa deals with Java programs annotated in a variant of the The Java Modeling Language. Jessie deals with C programs annotated in the ANSI/ISO C Specification Language (ACSL).
Other Packages Related to why
dep:

frama-c-base (= 20140301+neon+dfsg-3) [arm64]

Platform dedicated to the analysis of source code written in C (without gui)

dep:

frama-c-base (= 20161101+silicon+dfsg-5) [powerpcspe]

dep:

libc6 (>= 2.17) [arm64]

GNU C könyvtár: megosztott könyvtárak
also a virtual package provided by libc6-udeb

dep:

liblablgtk2-ocaml-72b94 [arm64]

virtual package provided by liblablgtk2-ocaml

dep:

make

utility for directing compilation
also a virtual package provided by make-guile

dep:

ocaml-base-nox-4.01.0 [arm64]

virtual package provided by ocaml-base-nox

dep:

ocaml-base-nox-4.02.3 [powerpcspe]

Package not available

dep:

why3 [powerpcspe]

Software verification platform
sug:

libwhy-coq (= 2.34-2) [arm64]

Package not available

sug:

libwhy-coq (= 2.36-5+b1) [powerpcspe]
Download why
Download for all available architectures

| Architecture | Version | Package Size | Installed Size | Files |
| --- | --- | --- | --- | --- |
| arm64 (unofficial port) | 2.34-2 | 9,665.0 kB | 48,670.0 kB | [list of files] |
| powerpcspe (unofficial port) | 2.36-5+b1 | 3,344.8 kB | 18,981.0 kB | [list of files] |