Package: roxterm-gtk3 (2.9.4-1) [debports]
Links for roxterm-gtk3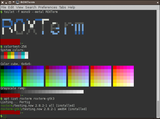 Debian Resources:
Download Source Package :
Not found
Maintainers:
External Resources:
Similar packages:
Multi-tabbed GTK+/VTE terminal emulator - GTK3 version
ROXTerm is a terminal emulator based on the VTE library. It was originally intended to be a lightweight alternative to gnome-terminal, but its role has shifted to providing a richer range of features for power users.
This package provides the GTK+3 version of the binaries. The roxterm-gtk2 package provides a GTK+2 version.
Other Packages Related to roxterm-gtk3
dep:

libc6 (>= 2.17)

GNU C könyvtár: megosztott könyvtárak
also a virtual package provided by libc6-udeb

dep:

libdbus-1-3 (>= 1.0.2)

simple interprocess messaging system (library)

dep:

libdbus-glib-1-2 (>= 0.78)

deprecated library for D-Bus IPC

dep:

libgdk-pixbuf2.0-0 (>= 2.22.0)

GDK Pixbuf library

dep:

libglib2.0-0 (>= 2.37.3)

GLib library of C routines

dep:

libgtk-3-0 (>= 3.9.12)

GTK+ graphical user interface library

dep:

libice6 (>= 1:1.0.0)

X11 Inter-Client Exchange library

dep:

libpango-1.0-0 (>= 1.14.0)

Layout and rendering of internationalized text

dep:

librsvg2-common

SAX-based renderer library for SVG files (extra runtime)

dep:

libsm6

X11 Session Management library

dep:

libvte-2.90-9 (>= 1:0.27.90)

Terminal emulator widget for GTK+ 3.0 - runtime files

dep:

libx11-6

X11 client-side library

dep:

roxterm-common (= 2.9.4-1)

Package not available
Download roxterm-gtk3
Download for all available architectures

| Architecture | Package Size | Installed Size | Files |
| --- | --- | --- | --- |
| arm64 (unofficial port) | 133.1 kB | 395.0 kB | [list of files] |