Package: playmidi (2.4debian-10)
Links for playmidi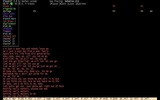 Debian Resources:
Download Source Package playmidi:
Maintainer:
Similar packages:
MIDI player
Playmidi is a MIDI file player that will play back using FM, GUS, SoundBlaster or external MIDI. It also supports Creative Music Files (CMF), Microsoft RIFF (RMI) files and large MIDI archives from games such as Ultima 7.
The player may be used with a text interface or a graphical interface.
Other Packages Related to playmidi
rec:

libx11-6

X11 client-side library

rec:

libxaw7

X11 Athena Widget library

rec:

libxt6

X11 toolkit intrinsics library
sug:

awesfx

utility programs for AWE32/64 and Emu10k1 driver